Hey everyone!
2020 started a bang: Over $880 million raised, and three new Unicorns were born. It's pretty hard to beat such numbers, but it seems that February and its 29 days gave a pretty good fight.
This month only once Unicorn joined the club and 36 startups raised over $857 million. Let's hope 2020 continues that way.
Here's some information about part of the startups, just like we do every month:
On top of our list, we have the cybersecurity startup SentinelOne, which developed an autonomous AI platform that aims to beat any threat and replace the Antivirus. SentinelOne secured a $200 million investment, led by Insight Partners, and crossed the $1 billion value.
Veev, founded in 2008, and came out of stealth mode only now, by announcing that they've raised $97 million since it was founded. Veev, based both in California and Israel, has developed a panelized building system that would improve the construction process by reducing the costs and providing quality building materials.
With "only" $48 million, we have K Health, the personal health assistant that users can use to diagnose their illness based on crowdsourcing from millions of patients. Up to date, K raised approximately $100 million. That's healthy.
Next, with $45 million, we have NeoTX, a biopharma company focusing on oncology immunotherapy, trying to develop a drug to treat cancer. Hopefully, the new $45 million investment will help them complete their research and finalize the treatment soon.
Another cybersecurity startup trying to harness the power of AI and Deep Learning to prevent attacks is Deep Instinct. The startup, founded in 2015, developed a Zero-Time threat detection platform and raised $43 million this month to stop attacks before they happen. Yay to Cyber.
To commemorate the passing of the man who invented the Copy & Paste, we'll just copy and paste this paragraph from June 2019: Wait a minute, don't leave just yet – Minute Media raised $40 million this month! Minute Media is the owner and publisher of several sports-related websites, powered by content like 90min and 12up. The startup, located in Tel Aviv, raised already more than $155 million in total. GOAL!
The company behind ElliQ, the personal assistant for seniors, raised an extra $36 million this month. We wrote about the company in our previous blog post about startups for seniors.
So, we have car insurance, house insurance, life insurance, and health insurance, but what about cyber insurance? Apparently, that's a thing. At Bay, based in Tel-Aviv and Mountain View, is offering an end-to-end solution to cyber risk with comprehensive risk assessment, a tailored cyber insurance policy and year-long, active, risk-management service. Now they've raised a $34 million. Don't forget to ensure the transfer.
Time to make everything connected with Wiliot, a Battery-Free Bluetooth® Technology Connecting People with Products. Meaning, Wiliot can use their technology to insert Bluetooth into small stickers, and even make your T-shirt smarter. A year after their previous round, Wiliot expanded their B round with an extra $20 million.
Temi is a personal assistant robot (and pretty amazing one, we have it in our office) that uses video and audio to complete different tasks. Now, the company behind the Temi Robot raised $15 million from Chinese investors, to use it for fighting the Coronavirus. A fleet of Temi robots is sent to medical centers to help doctors communicate and examine patients remotely, without the risk of getting infected. We hope they've built enough robots.
If you ever built a website on WordPress, you must know of tiring it is. However, if you ever built a website on WordPress, you must've heard of or used Elementor. Now, after three years of successfully helping the creation of millions of webpages, Elementor raised funds for the very first time! $15 million to be more accurate.
Tired of boring job interviews? Actiview has developed a new way to interview candidates or asses employees using virtual reality and deep learning. The company's software Assense, simulates real-life simulations for candidates and provides data-driven insights about them to predict their fit. The startup, founded in 2010, raised $10 million this month, led by Teddy Sagi.
Getting stock options in a startup is great, but what can you do with them after you leave the company? EquityBee helps startup employees get the money they need to exercise their stock options before they expire by connecting them with investors who can fund it. The company raised $6.6 million, and hopefully, their employees got some options.
Let's wrap up this list with something sweet for dessert – Foodtech startup Yofix is the maker of Clean Label plant-based dairy alternatives, meaning – vegan yogurts. Distributed in Israeli supermarkets under the brand ONLY, Yofix is now planning to expand worldwide and raised $2.5 million from German company Muller Ventures and others. Sweet (and vegan).
Here it is, the newly designed Infographic. Click to enlarge!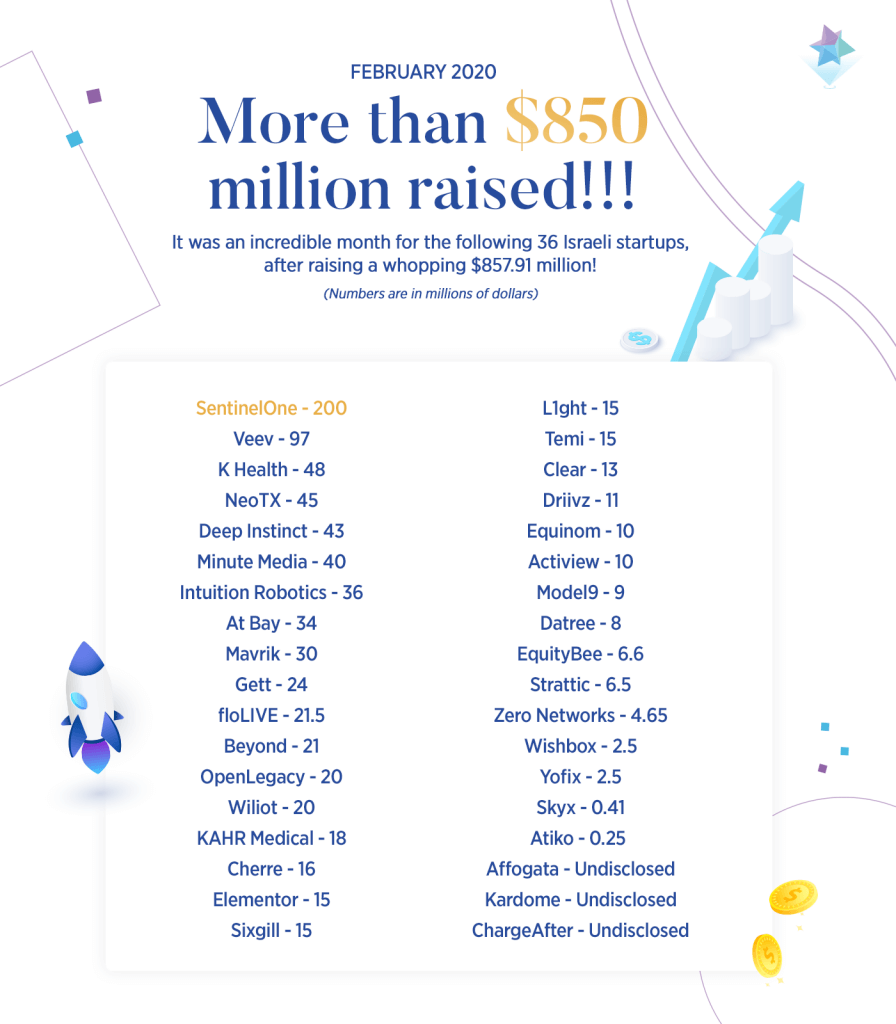 See you next month!