In today's fast-paced digital age, companies and event producers are constantly seeking innovative ways to capture the attention of potential clients, partners, and stakeholders. Events, tradeshows, and conferences are no exception. With the right technological solutions, businesses can create memorable experiences that engage attendees and set them apart from the competition. To make your event stand out in 2024, let's explore some of the most exciting ideas and event technology trends.
Interactive Touchscreen Displays
Static displays are a thing of the past. Today's attendees crave interaction and engagement. By integrating touchscreen displays, floors, or tables, companies can offer dynamic presentations, interactive product demos, or even gamified brand experiences. Taggbox Social Wall provides complete solutions to create and display social media walls (aggregated from more than 15 platforms) on every screen for anyone to see what people are Tweeting or posting about your event.
AI Robotic Bartender
Whether you are looking for refreshments or just want to offer your attendees an innovative and unique experience, robotic bartenders might be the answer. Cecilia.ai, for example, is an interactive, robotic bartender, perfect for these types of events. "She" can handle mass traffic by mixing 120 cocktails an hour while interacting with the crowd to make them laugh or talk about your company or event's agenda. Cecilia isn't just about serving drinks; she's about crafting experiences. With Cecilia.ai, events can offer a unique blend of tech and hospitality, ensuring attendees have stories to share and memories to cherish.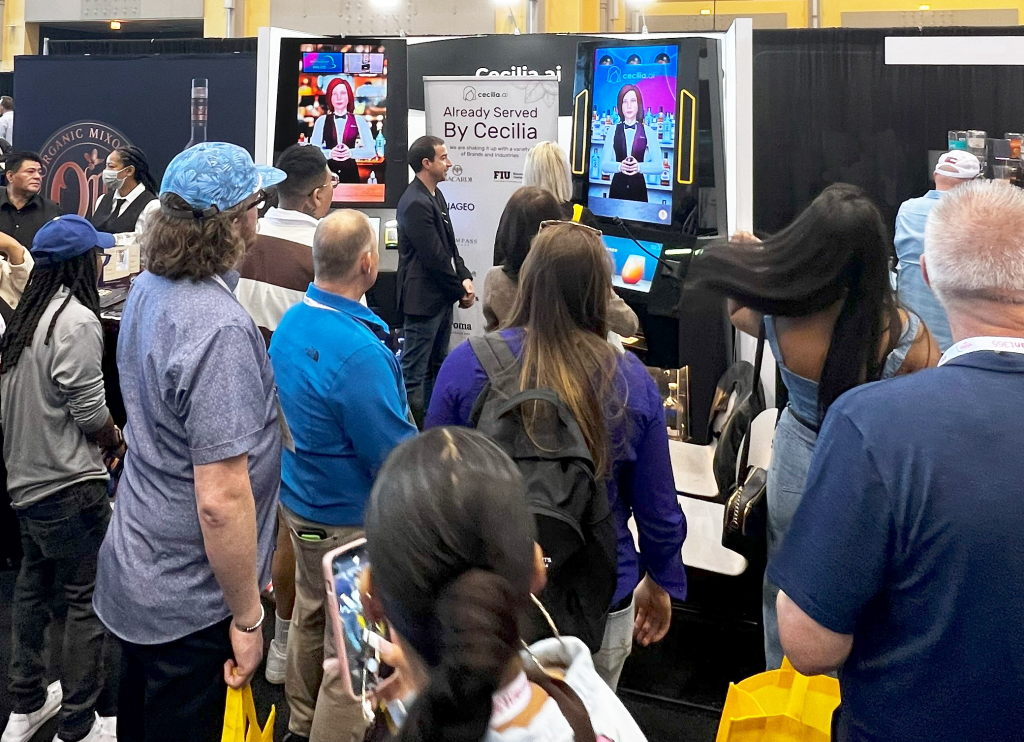 Hybrid Live Translation and Transcribing
Breaking language barriers is crucial in our globalized world. With live translation from companies like Wordly, events can cater to a diverse audience, ensuring inclusivity. This technology provides live AI translation into audio and captions, making sessions accessible to all, in the event or live viewers attending from home, regardless of language. The result? It's a truly global event that everyone can be a part of.
Augmented Reality (AR) Experiences
Mentioning AR (or VR) when it comes to event technology trends may seem corny in 2024, but it's still a thing, and the audience digs it and always must "try it out." AR offers a bridge between the digital and physical realms. Companies like Onirix develop tailor-made AR solutions so attendees can interact with digital overlays, explore products in 3D, view a map of the venue, or even participate in AR-driven games. This immersive technology ensures that the brand's message is not only seen, but also experienced.
Coffee with a Twist
Forget about the boring drinks. The startup Ripples has transformed the drinking experience by turning each cup (or, more accurately, the top of it) into a work of art. Whether it's a brand logo, a personalized message, a social media hashtag, or intricate designs, every sip becomes a conversation starter. Grab people's attention when they grab a cup of coffee or a cocktail, and turn every customer into an influencer with share-worthy drink prints!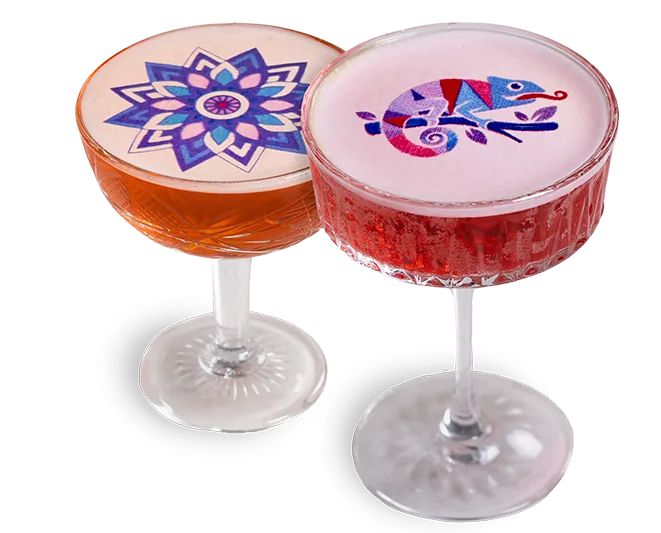 Virtual Swag Bag
Handing out virtual swag bags is a trend that started post-COVID outbreak, where conferences went online or hybrid, but it's useful these days as well. Digital goodies offer a sustainable and innovative alternative to traditional giveaways that you must carry all day. Attendees can check the event agenda on their phones, expand their knowledge with eBooks, enter a competition, or choose from a curated range of digital offerings such as food delivery or Amazon coupons.
Wearable Tech and Smart Badges
More than just an ID, smart badges are about enhancing the attendee journey and turning conferences into captivating experiences. One example is Klik SmartBadges™ by Bizzabo. These badges enable easy entrance to the event or specific rooms and swapping details seamlessly with other attendees instead of exchanging business cards. Moreover, these badges are known for their flashing lights, coloring each SmartBadge with a different color to divide into groups, or launching custom light cues during a keynote, bringing a concert vibe to your corporate event.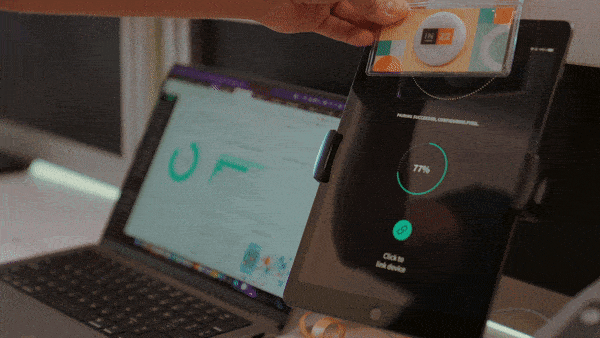 Portable Podcast Studio
Everyone has a podcast nowadays, and probably your company has one, but what about your event? Live content creation adds a dynamic layer to events. With a portable podcast studio, brands can engage attendees through live interviews, discussions, or sessions. It's about capturing the event's pulse, amplifying it to a broader audience, and giving your attendees a chance to speak their minds!
The future of events lies in the harmonious blend of technology and human touch. Companies and event organizers can create experiences that resonate on many levels by integrating these event technology trends, ensuring attendees leave with more than just memories but a deeper connection to the company as well. The companies that embrace innovation will stand out in the evolving events landscape in 2024 and beyond.