We've had several optimistic months, despite the rumors about a crisis and slowing down, but now it seems that the inflation and the overall situation in the market have reached Israel, too. Hundreds of employees were laid off from dozens of companies- some of which have shut down entirely- and even the numbers show: only $695 million were raised this month by 32 companies (that we know of).
That's not a bad number. In fact, a few years ago, it would have been considered a success, but in comparison to the billions raised and the birth of new Unicorns over the past few months, the difference is quite noticeable.  
Yet, we're still happy to see companies that make it through the crisis with decent (and some might say reasonable) investment rounds. Here are some of them:
We're used to seeing nine-digit investment rounds on the top of the list, but this time we'll have to settle for "just" $64 million, which rightfully goes directly to one of our favorite startups – AI21 Labs, the creators of the life-saving (for content writers) Wordtune, and various of NLP tools for developers. Keep it going!
Just one million below, with $63 million, we have another startup that starts with A and ends with Labs: we're talking about the vehicle software intelligence developer Aurora Labs. The startup's technology enables automotive companies or silicon vendors to collect data from vehicles, understand the software and line-of-code, diagnose problems, and overall streamline the development process.  
July's startup list is not so long, yet four companies with "Robotics" in their title are mentioned. At least one of them is building an actual robot.

ForSight Robotics, with $55 million, has developed ORYOM™ – the first hybrid intraocular robotic ophthalmic platform for performing safer eye surgeries. 
Diagnostic Robotics, Dr. Kira Radinsky's new baby has raised $45 million for a powerful AI-based diagnostic system that helps healthcare providers save costs and improve with predictive analysis. 
Unlimited Robotics, which raised $8 million, is developing a multi-functional service robot called Gary that can perform any task you'd need at home or work. 
Wonder Robotics raised $4 million for the development of WonderLand, a solution that allows vertical take-off and landing drones to land safely and autonomously.  
Also worth mentioning are three gaming companies that have raised some funds this month with the help of investors, not loot boxes.
Edge Gaming is an interesting startup that turns gameplay moments into "playables." Players can capture their gameplay and instantly turn it into a playable mini-game that can be shared and played by others. Edge Gaming raised $30 million this month. Nice play. 
UnCaged Studios, with $24 million, is pioneering the next generation of AAA, Play-First Web3 gaming, and has developed a game called Monkey League. It combines soccer, chess… and NFT. Is that the future of gaming? We'll have to wait and see.
With $7 million, we have Gigantic- a gaming startup that we've mentioned in the past- for the development of Clawee, an app that enables players to operate an actual claw machine remotely and win the prize they just picked up. Well, if they managed to pick it up; you know how claw machines work.
As usual, here's this month's complete list of investment rounds and grants: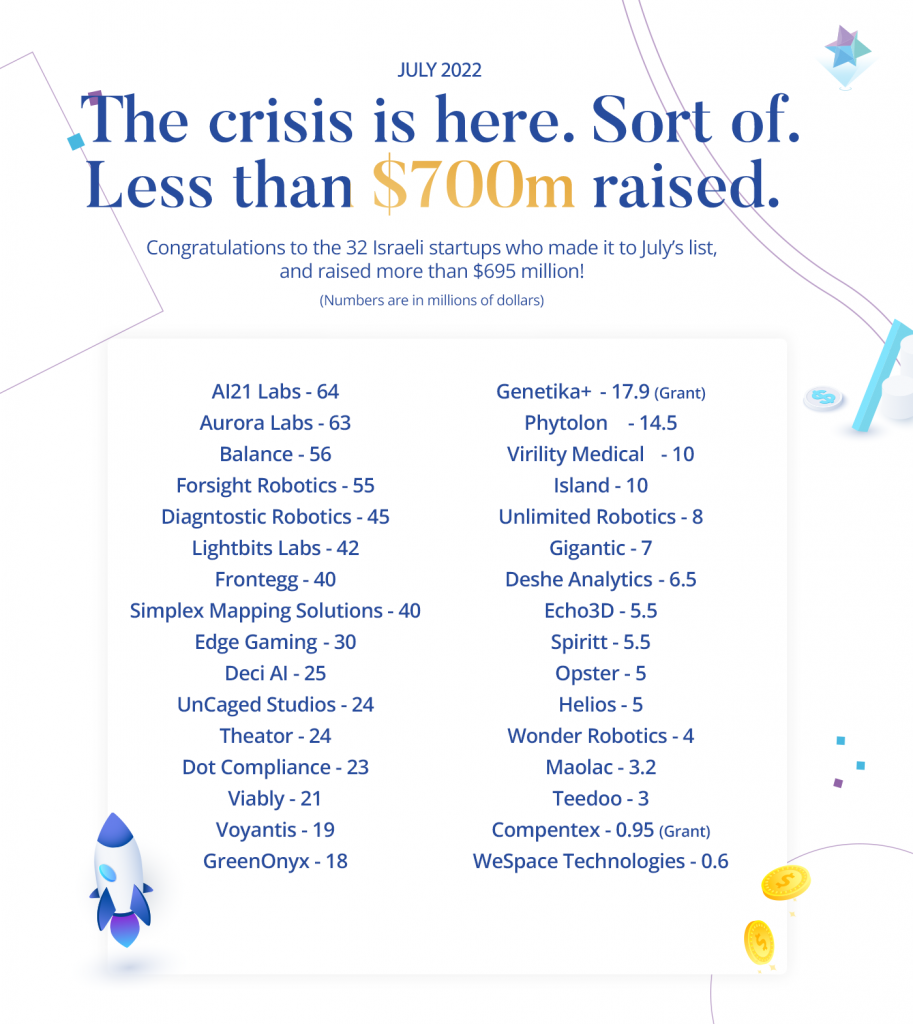 While one slow down doesn't necessarily mean trouble, along with the Israeli and worldwide cutoffs, it certainly looks like the market will take some time to recover. We'll have to wait and see what the next couple of months bring.