After some GREAT numbers last month, August came in like Larry David to "curb our enthusiasm". Well, that is unless you're working at Cybereason- who raised $200 million- and are accountable for more than half of $378.77 million raised by 28 Israeli startups this month.
So, just like every other month, here are our month's top picks:
As mentioned in the opening paragraph (Hope you've read it), the cybersecurity company Cybereason raised $200 million from Japanese investor SoftBank, which already invested $159 million in the company during the past four years. Cybereason, on its way to become the largest cybersecurity in the world, raised $388 million to date. Hope the money is safe!
Next on the list, way way down with "just" $26 million, is the healthcare data startup MDClone. The startup built a platform, a "Sandbox", that democratizes data to the entire healthcare ecosystem, enabling on-demand and self-service access to healthcare data without compromising patient confidentiality. Since its foundation in 2015, the company raised more than $41 million.
Okay, let's admit it, your kid won't become the next Mozart, but one successful Israeli app might help him or her, or you, learn how to play like a pro. We're talking about JoyTunes of course, the developer of super-popular music education apps, like Piano Maestro, with millions of users worldwide. The company raised $25 million this month, making it a total of $42 million. These numbers are music to our ears. Oh, and JoyTunes participated in this year's Startupurim!
Tired of watching 90-minute long soccer matches, and only getting to see the highlights the day after? That's what WSC Sports, an AI-powered video creation tool for sports content, was built for. Now, for the highlight of this news piece, the startup raised $23 million this month. WSC Sports; it's in the game.
Home is where the heart is, and Homeis is a social network for immigrants that raised $12 million this month. The platform was built to help people immigrating to a new country (like Israelis in Los Angeles, for example) to build a community, overcome the language barriers, find job opportunities, get recommendations on a doctor or lawyer, and more.
Tel-Aviv is not only one of the top startup ecosystems, but also one of the greatest vegan capitals of the world, so it's no wonder that VeganNation was founded. VeganNation is a blockchain-based startup, empowering vegan businesses in its marketplace using the Vegan Coin. The startup announced this month that they raised $10 million over the past few years, and even got Game of Thrones' Jerome Flynn and Step Up dancer Jenna Dewan to join their advisory board. So cool, and non-cruel!
Another startup aiming to save the planet, or at least the crops, is the Agitech startup CropX. CropX uses soil sensors and an analytics platform to enable smart farming by analyzing soil temperature, moisture, and conductivity to reduce water, fertilization, and energy costs.
But we're talking about growing companies, not crops, and the company's latest $10 million B round will surely help them grow.
Here's a startup that you'll never need unless you're an advertiser. Anzu is an in-game advertising platform that enables brands to introduce ads directly into game worlds without blocking game sessions, and integrates them into the gameplay as part of the environment. Anzu raised $6.5 million this month, just in time before angry gamers raid their office.
Selling weed? (Don't worry, we're not calling the cops) This one's for you! GemmaCert has developed an innovative solution that analyzes cannabis and tests the active ingredients content and cannabinoid levels of a flower bud. GemmaCert grabbed a $3.5 million investment this month, which would go for R&D and some chill.
Cyabra is a new-ish startup that helps brands and governments deal with fake news and bots on the internet. Cyabra raised $2 million from TAU Ventures, Tel Aviv University's venture arm. Here's some real news about them: they participated in Startupurim 2019.
B.C Bike is the Israeli company behind OYO, a new kind of chain-free bicycle. It's a sort of hybrid between old regular bicycles and e-bikes, based on hydraulic power. The company raised NIS 5 million ($1.4 million) via Fundit, with the help of big investors such as Professor Dan Ariely. Keep on rolling!
And lastly, with a little $850k investment and big potential, say hello to Tulou; a new service that offers sharing household appliances in apartment buildings. Say you need a Dyson for your carpet, a drill, a scooter, or even a Sony Playstation. You can rent it from the Tulou warehouse in your building and pay per usage. Sure, you don't need this service if you can just borrow from your neighbours, but still a cool idea.
The rest of the numbers, are right here: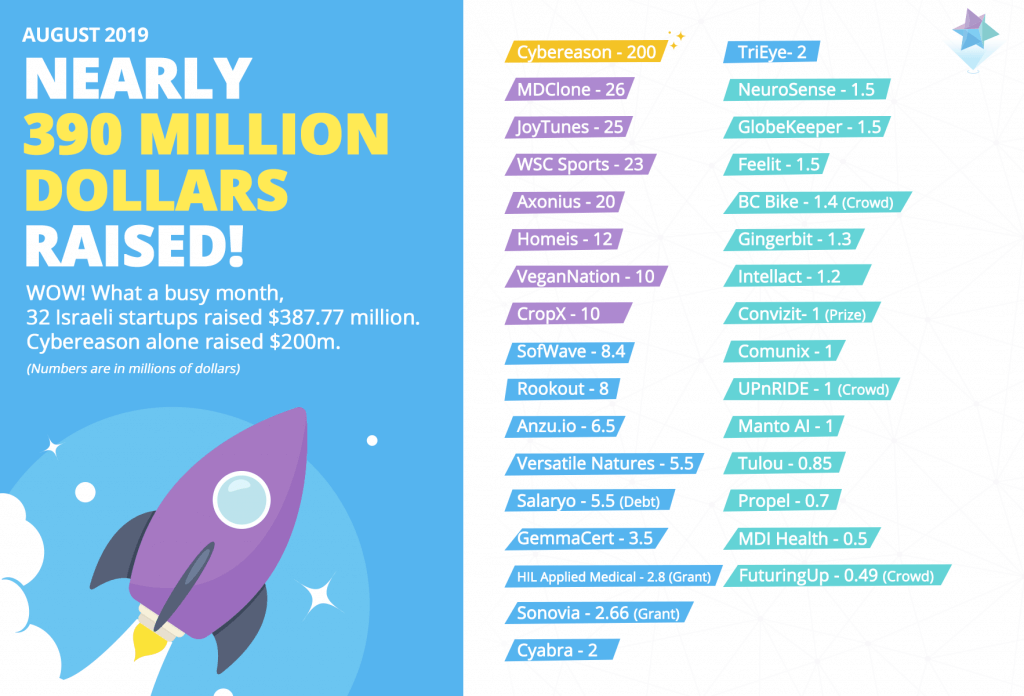 Thanks for following Startup Israel Community.
See you next month with more fresh startups and big numbers.