The Israeli startup ecosystem has done it again. We didn't think it would happen again so fast after passing the $3b mark and breaking a record in October, but it did – the following month.
This November, 70 Israeli startups raised more than $3.66 billion, with the birth of four new Unicorns and seven mega-deals that account for a third of the total amount.
In a list of 70 startups and the longest largest that we made, we couldn't cover everything, but we picked some of the most interesting and noteworthy deals and companies. 
On top of the list, we have one of the most successful startups in Israel, the gaming company MoonActive. With expected revenues of more than $1.5 billion in 2021, mainly thanks to their super-popular game Coin Master, no wonder that the company's latest $300 million round brought its valuation to $5 billion! This Secondary investment, led by Insight Partners, is also great news for some of their 1,300 employees who probably became "Coin Masters" themselves after their stock options were acquired. 
The agentless assets security company Armis, acquired by Insight Partners in January 2020, continues its money-raising efforts. After getting a $125 million investment earlier this year, Armis added another $300 million in private equity and brought the company's valuation to $3.4 billion. The company's platform provides simple, comprehensive device visibility & security using a vast knowledge base of over 1 billion devices and their behaviors. 
Moving over to the business management platform HoneyBook, which hauled a $250 million investment that doubled the company's valuation to $2.4 billion – only six months after its $155 million D Round. HoneyBook is an all-in-one platform that allows small businesses and freelancers to manage projects, book clients, send invoices, and get paid. Just like HoneyBook.
The next one is a company that needs no introduction if you've been reading this blog regularly – Verbit. Just like HoneyBook, Verbit, the AI-based transcription and captioning service, announced its $250 million Series E only six months after their last round of $157 million Series D and doubled its valuation to $2 billion. Looks like a trend. 
Ready to save the world? Meet Immunai, the US and Tel-Aviv-based company is developing a platform that maps the immune system using single-cell biology and AI to accelerate the development of novel immune medicines. Immunai raised $215 million this month to continue with research and development and to hire more PhDs and MDs who'll be working together to achieve medical breakthroughs. Good luck!  
If you've been watching the new season of the Israeli satirical comedy show Eretz Nehederet, you probably saw their sketches about the startup "Webos" that mocks and criticizes the Israeli tech scene and the investment frenzy. What you probably didn't know is that these scenes were filmed at the offices of Lusha, which announced a $205 million Series B the same day the show aired and became a Unicorn. Yes, Ironic, we know.  However, unlike "Webos," Lusha has an actual product – a sales intelligence platform for B2B sales, helping 280K companies get contact and company details to generate leads and score their next sale.
Speaking of the Unicorn Club, we have a new member! OpenWeb, formerly known as Spot.IM, raised $150 million to bring the power back to publishers by enabling them to create engaged and safer communities with moderated content and less online toxicity. The OpenWebOS (not to be confused with Webos from the previous paragraph) has 100M+ monthly active users and is trusted by top publishers like AOL, TechCrunch, New York Post, Fox News, who see a growth in the time users spend on their site.     
Beep beep! Make way to AutoBrains. The company developed Cartex, a self-learning AI technology for assisted and autonomous driving that is safer, more efficient, consumes 10x less energy, and is adaptive to its surroundings in real-time. Autobrains raised $101 million this month.  
The newest Unicorn, announced only yesterday, is Fundbox, a startup that helps small businesses grow by offering loans, lines of credit, and other financial products. Fundbox is also growing, with the help of a $100 million Series D that brings the company to a $1.1 billion valuation.  
Gaming startup Overwolf raised $75 million to enrich the gaming community. Overwolf built a platform for creating in-game apps and mods for popular games like League of Legends, World of Warcraft, Fortnite and sharing or selling them in the company's Appstore. Overwolf has about 90,000 creators and 20 million monthly active users.   
We know you probably didn't expect to meet a new Unicorn below the mega-deals, but we have a new one. Starkware is a crypto startup that builds an Ethereum scaling solution called StarkNet, bringing scalability, security, and privacy to blockchains. The company raised $50 million this month and more than $160 million in total, skyrocketing its valuation to $2 billion.  
As a customer, it's nice to have the law by your side against fraud and theft. Still, unfortunately, many customers use this to manipulate retailers with false chargebacks and reclaim their money back from the credit card company. Over 80% of charges are illegitimate! Justt raised $50 million this month, and $70m since it was founded, to fight fraudulent chargebacks with AI and save online sellers an estimated $125 billion lost revenue.   
It's been a while, but finally, there's a drone startup on the list! This time we're talking about Flytrex, a drone delivery service that operates in the US and works with retailers and restaurants like Walmart and Chili's to enable a quick sky-high 5-minute delivery. Flytrex is aiming high and raised $40 million this month to continue developing and expanding to other locations than North Carolina, where the company currently operates. 
Meet Bit, a new platform for component-driven development, creating microservices to help front-end developers build websites, bit by bit. Used by more than 200,000 developers, Bit grabbed $25 million in a Series B round. 
Two companies that aim to help you write better are aligned on top of each other. With $21 million, we have Anyword, a copywriting generator powered by AI to create optimized copy for ads, landing pages, emails, and more.
A bit under, with $20 million, we have Amnon Shashua's AI21 Labs, a company with the mission to make the best Natural Language Processing tools to help both machines and people. The company created one of our favorite tools called Wordtune, which assists you in rewriting your sentences in English in a better way – even when you write them in Hebrew. 
Got milk? Good, and what about animal-free milk? Imagindairy is a new Israeli food-tech startup developing animal-free dairy proteins for real milk, with no cows involved. The startup raised a $13 million seed round to integrate deep tech with system biology and develop a commercial and viable animal-free protein-based dairy product. It's going to be Imagin-wait for it-dairy.    
Any product developers in the crowd? Good! Allow us to introduce you to Craft.io, an end-to-end product management platform. Craft.io covers anything you need to become a better product team, from helping you understand your customers or making it easier to collaborate with development teams. The startup raised $8 million this month with plans for expansion and adding some machine learning tools to their platform.
Just like always, here's the infographic for you. Click to download or view it in full size.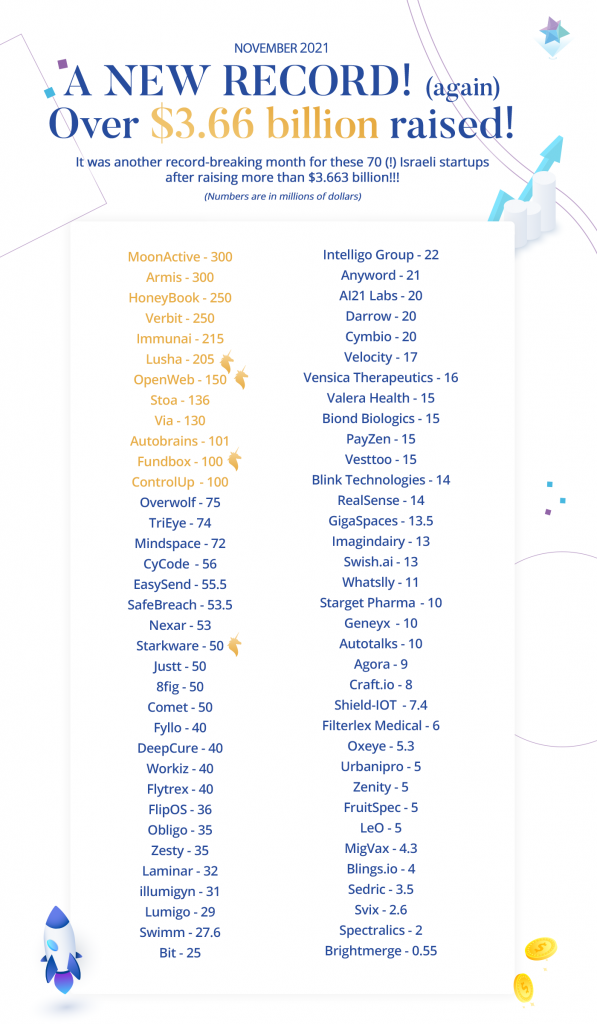 We can't wait for this year to end. Think we're going to have a pretty interesting year summary.