Hi there,
Welcome to 2021!
We know you'd all like to forget about last year, but let us take you back to December, for the last monthly startup summary of 2020. This year surely ended with a blast, a positive one, as 41 Israeli startups raised $1.0097 billion! 
As usual, we've picked out some of them.
On top of the list, with $138 million, we have one of the definite winners of the pandemic and 2020. Bizzabo, founded in 2010, is an SaaS platform for managing and planning events. The entire event planning industry has pretty much collapsed this past year. But, instead of giving up, Bizzabo quickly developed and shifted their product to a hybrid of in-person and virtual events manager, which made their revenue grow by %100 this year. Amazing!
Another winner is Assaf Rappaport, former Head of R&D at Microsoft Israel, who quit his job about a year ago to start a new cloud cybersecurity startup called Wiz. Now, after a $21 million seed back in February, his company raised an extra $100 million in Series A in just 9 months!
Privacy and data protection BigID has three reasons to celebrate this month:
It has been chosen as the #1 startup to work for by

Dun 100's

It raised $70 million

, and a total of $216 million

It is now valued at $1 billion, which means

BigID

is now a Unicorn! 
It is a dangerous time out there for companies, and no- we're not talking about Coronavirus. We're talking about groups of hackers that infiltrate companies and cause damage to their websites, database, etc. Some of these damages can cost millions of dollars that you could have saved if you had cyber insurance, like At Bay. Well, this has been a long introduction just to tell you that this startup raised $34 million this month.
Another growing startup is SeeTree, a platform that helps farmers analyze trees and optimize their use using AI. SeeTree just saw a $30 million investment that would help extend its roots. We hope it's better than the old method of counting rings to estimate the tree's age. 
No matter which video conferencing platform you're using, it's time we find our common ground, or should we say, CommonGround. It's a new startup that was founded just moments before the Coronavirus outbreak, with a mission to improve human interaction in online video sessions with Computer Vision and 3D, whatever that means. However, the investors probably dug the idea, and gave CommonGround $19 million.
Tired of hearing about boring Cyber/AI/Adtech startups? Here's a startup you never expected: Senecio Robotics, which has been awarded $12 million by the EU.  Senecio Robotics is a robot for sorting mosquitos by sex. Using deep-learning, their system will be able to release only non-biting male mosquitos to the world to prevent the spread of diseases like malaria or dengue. Yes, itch crazy as it sounds. 
Here's a solution that might help make the transition from vegetarianism to veganism easier: Remilk is making animal-free dairy products using a process called "microbial fermentation" to reproduce milk proteins without a single cow involved. The startup milked (or should we say, remilked) an $11.3 million fund from investors.
Have the lockdowns made you feel a bit lazy at home? Have you been looking for a way to get back into shape? Well, it may sound like an ad, but this BlazePod is the perfect solution for working out at home. After successful crowdfunding in 2017, the company began selling its interactive fitness training program using an app and several pods with lights and voice instructions that will make you sweat, lose weight, and improve your cognitive skills. BlazePod raised $8.5 million this month, and let's hope they won't burn the investment as fast as they do with calories.
Every once in a while, a startup pops up that makes you say "oh my gosh, that's brilliant". This time it was Gigantic, the makers of the addictive mobile game called Clawee. Clawee lets users from all over the world play on REAL claw machines using live video and your smartphone to control the machine, grab toys, and get real prizes sent to you. We're not the only ones who thought that's brilliant, and Gigantic grabbed a $7 million prize. 
How do you screen candidates during a global pandemic? With myInterview's smart video interviews, of course. Yup, another Israeli that we mentioned this year, who used the crisis to their advantage and raised $5 million. Sweet!
Just two months after raising $2.5 million, and being interviewed for our Startup Israel Community, no-code sales demos platform Walnut raised an additional $3.5 million. Good luck!
Everybody loves a good coffee. You know what? Not loves- needs. Some can't survive the morning, noon, or afternoon without a cup of coffee. The problem is that the process of making coffee and roasting it is not so good for the environment. Griin would like to change that with a patent-pending roasting solution that heats beans from the inside out, in a coffee machine you can use in your kitchen or office. The newish startup raised $2 million to bring you all the caffeine, with none of the pollution. 
Vee is a new startup, founded by 21-year-old May Piamenta, to connect companies and employees with volunteering opportunities. Vee helps companies manage their volunteers and match them with fitting programs and activities for them in hospitals, with children with special needs, or even in programs that encourage girls to pursue entrepreneurship. Good for the soul, good the company's PR, and good for Vee, which raised $1 million. That's a great start!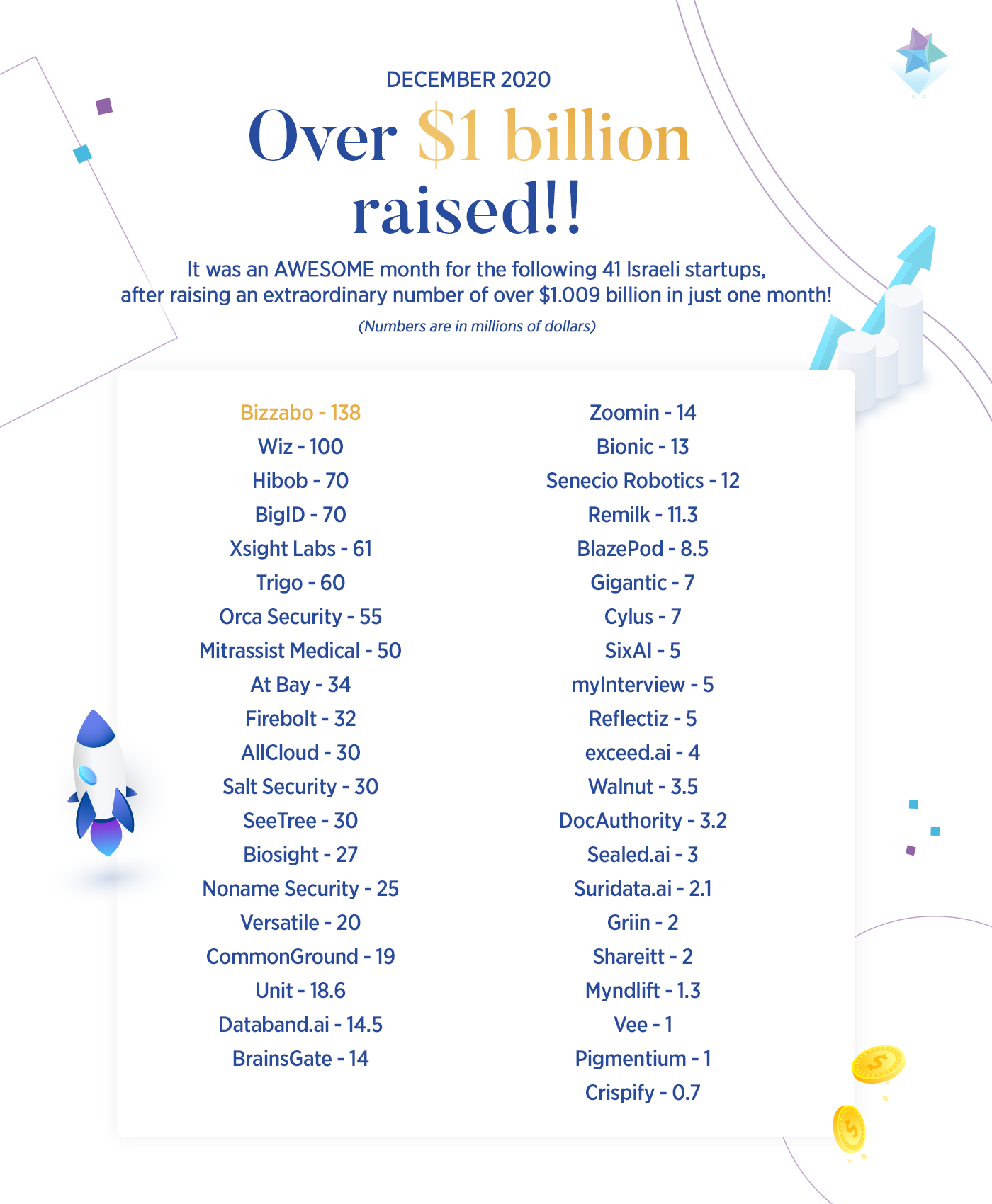 Hope that 2021 will be amazing for the world as well as for Israeli startups.
Happy new year!