Woah, what a year!
We've been pretty busy collecting and calculating the amount of money that flowed and has been invested in Israeli startups and got surprised every single time. We still haven't processed all the data and we'll try to publish our report later this month, but in the meantime, we can tell you that Israeli startups raised more than $27 billion in 2021. THAT'S A LOT.
That number also includes the last month of 2021, where 37 Israeli companies raised over $2.235 with some mega investments, new Unicorns, and new inventive companies on the rise- as usual.
We've got some of these companies covered for you:
On top of the list, with an incredible $400 million Series E investment, we have one of the leading industrial cybersecurity companies, Claroty. Their platform covers all areas such as industrial (OT), Enterprise IoT, and Healthcare (IoMT). To support the latter, the company used the current investment for the acquisition of the medical devices security startup Medigate for $300 million. Speaking of yearly summaries, we've mentioned Medigate in our 2020 report.
The next one is clearly a huge achievement and a record-breaking number.
Rehovot-based cultured meat company Future Meat raised a historic $347 million investment, the largest single fundraising for a cultivated meat company and probably one of the largest investments in the Foodtech sector in general. Future Meat is planning to take the funding to make cultivated meat more commercialized and affordable, and begin producing cultivated chicken as well.
Tipalti, the automated accounts payable platform, raised $270 million in December and skyrocketed to an $8.3 billion valuation. Tipalti's platform, as their Hebrew name suggests, handles payments, procurements, and other financial operations, and reduces companies' workload by 80%. Trusted by over 2,000 paying enterprises like Canva, Roblox, GoDaddy, and National Geographic, it's no surprise that Tiplati had made it this far.
Let's turn waste into treasure with the next company on our list. Cleantech startup UBQ Materials developed a technology that enables them to take unsorted trash, of every sort, and turn it into a plastic-like material called UBQ™, "the most climate-positive thermoplastic on the market". Looks like the company also knows how to turn inventive ideas into money, and raised $170 million this month to continue the development of its vision. Good luck! 
Time for a Unicorn – meet Noname Security, a proactive API security platform, that saves your code and software from using APIs with security vulnerabilities, misconfigurations, and design flaws. Noname made a name for itself this month after securing a $135 million investment that brought the company up to a $1 billion valuation. 
The First Digital Bank, now branded as One Zero, is the first new independent bank in Israel after 40 years and was founded by Mobileye's Amnon Shashua. One Zero already has more than 60K customers on its waiting list (including me), hoping to see how this digital bank battles with the big ones. To support that move, the bank raised $120 million from a line of investors like Tencent and SBI. Good luck!
After listing out B2B cyber security startups for enterprises and industries, we skipped ahead a bit to tell you about new cybersecurity that aims to protect you, the end-user. Guardio is a lightweight extension designed to help you browse quickly and securely. Just add to it your browser, like Chrome, and it will block harmful sites, monitor data leaks, stop unwanted notifications, or remove malicious extensions. After being installed by more than one million users, Guardio raised $47 million. Cool!  
Too much time on the ground- let's head over to space. HiSky is an Israeli company developing low-cost voice, data & IoT satellite communication solutions called Smartellite™ to make satellite communication accessible and affordable, even in the most remote places on earth. HiSky raised $30 million in Series A this December. 
Remember Powermat, one of the pioneers in wireless charging products? Well, it turns out that the company is still active, and totally rocking it, as you can find its technology in more than 800 million smartphones, 40 million embedded accessories, and 8 million cars worldwide. The company charged its batteries with a $25 million investment this month to scale wireless charging tech and enable it for robotic solutions, among its variety of uses.   
The farmers' arch-nemeses are, apparently, weeds, as they threaten crop production worldwide. Up until now, the farmers had to spray herbicides indiscriminately across the field, which contaminates the soil and water, exposes people to health issues, and costs a lot of money for the farmers. Greeneye Technology developed an AI and deep learning solution that turns every sprayer into a smart machine, to reduce the use of these chemicals and stop the wasteful and harmful spraying. The company raised $22 million this month. Farmers, your sprayers have been answered (excuse the pun). 
The gamer in you might feel excited about this one: Edge Gaming lets you generate and share real mini-games (called Playables) from your gaming highlights that your fans and anyone else can play and compete in. While we're not entirely sure how this cool idea might work, it seems like the people of Playtika who invested $10 million in the startup – really saw its potential. GAME ON! (and on, and on…)  
Can you predict the next biggest hit series on Netflix or the huge blockbuster that'll draw anyone back to cinemas like "Spiderman: No Way Home" did? You probably can't, and so are the studios that use a lot of guesswork (or huge marketing campaigns) rather than algorithms. Israeli startup Vault AI, which raised $8 million this month, uses artificial intelligence to predict customer insights and responses and helps the networks or producers realize who their audience is, how to approach them, and how big the show or movie is gonna be.
Are we humans, or are we influencers? Better ask Israeli startup Humanz that question. Founded by Israeli military intelligence alumni from Unit 8200, who decided to use their knowledge in algorithms for marketing rather than cybersecurity, Humanz is a smart influencers marketing platform that helps brands choose the perfect influencers and content creators for the job and product that needs some boosting. Working with companies like Unilever, Adidas, ZARA, and McDonald's, no wonder the company raised $8m this month. 
WAKE UP! This is our last company for 2021, with a $4 million investment. Meet Ansā, formerly known as Griin, a coffee machine that roasts beans from the inside out, making it a zero-pollution solution for coffee lovers at home or in the office. So, if you're into quality coffee and the environment, this might be the product you've always needed.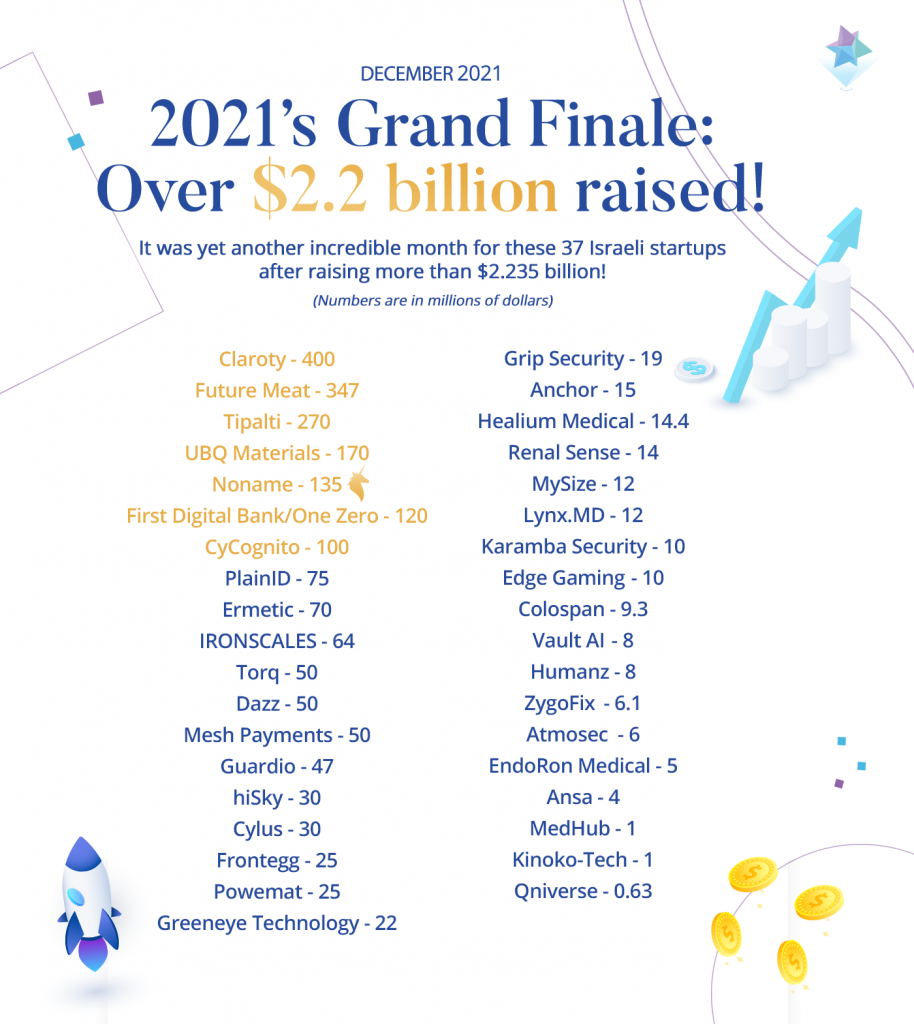 Well, what else is there to say? It's hard to believe that 2022 will be as grand as 2021, but life is full of surprises and, apparently,  some spare money to invest in Israeli companies.
See you soon,
Startup Israel Community.