Did you hear that? That's the tech's bubble that's bursting. After the Israeli companies on NASDAQ crashed (and not just them), it only made sense that VCs and investors would hold up a bit and be more careful with their money- but of course, we cannot tell if that's the situation based on this month's numbers.
This February, 50 Israeli startups raised over $1.47 billion and three new Unicorns joined the club, which is still impressive but looks rather pale compared to previous months in 2021, surpassing the $2 and $3 billion mark. 
The first startup on our list, which happens to be one of the unicorns mentioned earlier, is the cybersecurity company for marketers, CHEQ. The startup, which announced its $150 million Series C funding, develops a Go-to-Market security platform that protects your data, analytics, and paid advertising campaigns from bots, fraudsters, and invalid users. 
The next Unicorn is Salt Security, infamous for one company event, but famous for their API security solution, which brought them a $140 million investment and a $1.4 billion valuation.
Using API Context Engine (ACE) Architecture, Salt Security can discover all your APIs, stop every API attack, and eliminate API vulnerabilities in development. Bonus: Count how many times the term API appears in this paragraph.
Dreaming about your next vacation? Meet Island, a new… oh, wait, we were told that Island is actually the (brilliant) name of a cybersecurity company, developing a browser for enterprises. Instead of reading this article at work in Chrome or Firefox as you're probably doing right now, Island allows enterprises to create their own safe, private Chromium-based browser, which they can control and monitor. Island emerged from stealth, and announced almost $100 million in financing. 
The story of Cloudinary is out of the ordinary. Founded in 2012, Cloudinary announced its first round of investment in ten years, a $100 million secondary deal that brought the company up to a $2 billion valuation. From bootstrap to Unicorn. Cloudinary provides a solution for media optimization, which allows their customers to easily upload, edit, and publish images and videos on any device. 
Another video solution that raised $100 million this month tackles the need for content creation from another angle. WSC Sports automatically (or, automagically, as they claim) creates highlight videos for the satisfaction of every fan, and help sports organizations improve their engagement and monetization. 
Okay, let's move over to companies that raised less than a 9-digit number, but still develop incredible, promising products. 
Gauzy is the world leader in smart glass technologies. Yes, that's a thing. With the help of LCG® (light control glass) technologies, transparent materials can change from controlled levels of opaque to transparent on demand – for privacy matters, custom shading, energy control, and transparent displays. Earlier in February, Gauzy acquired French company Vision Systems and raised $60 million. 
Take a closer look at this one. Closer… Closer… Zoom in… Okay, now stop. Meet Scopio Labs, developers of a digital microscope that revolutionizes cell morphology and enables researchers and scientists to see things in a way that was never possible before. The company raised a $50 million C Round this month and reached a total of $84 million to date.  
Diamonds are a girl's best friend, but what about lab-grown diamonds? Better ask Lusix that question. Founded by visionary entrepreneur and prolific inventor Benny Landa, Lusix's diamonds are "fusing the beauty of nature with the power of science™". After perfecting the most scientifically advanced technology for growing the diamonds over the past 8 years, Lusix has now raised $45 million to help the company's growth. And its diamonds.
Subsurface Mapping Platform Exodigo raised $29 million to help construction, mining, and utility companies discover what lies beneath the surface. The startup's revolutionary non-intrusive subsurface imaging platform can detect buried objects such as gas pipelines, water sources, cables, minerals, and other natural or man-made obstacles that may hazard or delay construction projects. Looks like they've found a hidden treasure.  
Imagine turning on the TV in your hotel room in France, and your favorite movie starring Brad Pitt is on. He speaks in French, but unlike dubbing, this time he speaks French with his own voice. Meet Deepdub, a new startup aiming to "provide high-quality seamless localization of entertainment content using deep learning and AI algorithms", which simply means automating the dubbing process, in every language, using the actor's or actress's voice. Another thing that sounds great in every language is the fact that Deepdub raised $20 million this month. 
If you've spent some time on the Israeli LinkedIn feed, there's no way you could have missed the 22-year-old entrepreneur May Piamenta with her big smile, inspirational personality, and the refreshing energy she brings into her own startup, Vee. Vee is a volunteering platform that helps organizations and enterprises manage their employees' volunteering opportunities and give back to the community. A whole platform built for doing good? We're totally in, and so are the investors who gave the company $12 million funding.
Vanilla is the world's most popular scent and taste, but, surprising or not, most of the vanilla you've ever tasted was synthetic. Natural vanilla is super-expensive and suffers from an irregular supply chain, but now, an Israeli Foodtech startup is trying to change that. Vanilla Vida is developing a new method for growing vanilla crops faster despite the weather, climate change, and other variables that affect its scarcity. Vanilla Vida currently focuses on the spice that gave the company its name. They raised $11.5 million to advance with development and, hopefully, to apply the same technology for different crops in the future.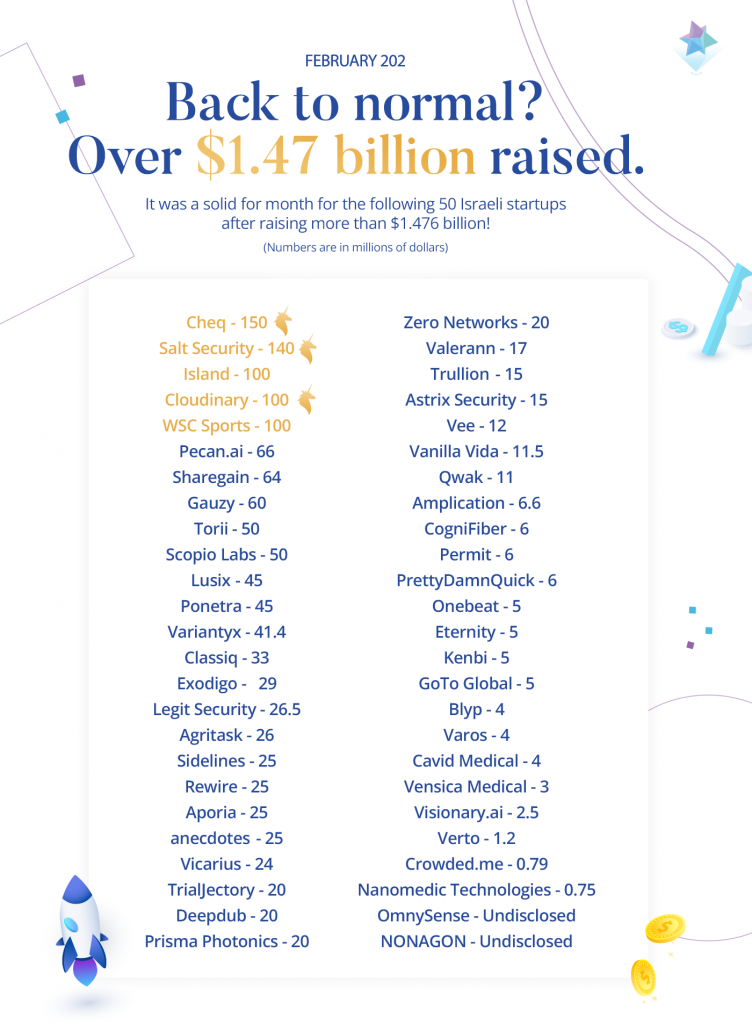 That's it for now.
Also, spoiler alert, March already kicked off with a HUGE investment before we finished writing this article, so forget about the first paragraph – the Israeli ecosystem still lives.