Israeli startup Cecilia.ai, the developer of the world's first robotic interactive bartender, signed a first-of-its-kind partnership with the Bacardi Center of Excellence at Florida International University (FIU) and plans to debut their joint activity officially at the South Beach Wine & Food Festival at the end of the month.
Cecilia.ai is a robotic bartender that features an interactive 3D avatar of a barmaid named Cecilia, activated using advanced voice recognition and artificial intelligence technologies.
She can participate in a two-way conversation, tell jokes, walk the customers through the menu, recommend drinks, and of course- make cocktails automatically and completely contactless.
The bartender can mix and shake 120 cocktails per hour, from a predefined custom menu, and is built to assist businesses and event organizers to create new means of income, be an attraction for new and returning customers, and combat the ever-growing shortage of workers- especially during the pandemic.
"We decided to invest in Cecilia's development after we saw its advanced abilities and the rising need in the world for robotic solutions, especially in the hospitality, tourism, and entertainment sectors," says Lital Kalkshtein. She is the CEO of GKI Group, the parent company of Cecilia.ai, and more technology products. "After the robots' success in its previous version, which was used mainly as an attraction for daily events, we decided to rebuild Cecilia to fit for businesses and added some necessary features such as data collection, payment solutions, and an ID reader to verify the users' age." 
Bacardi is one the largest privately-held spirits companies in the world and owns over 200 brands such as Martini, Tequila Patron, Whisky Dewar's, Bombay Sapphire, and, of course, their eponymous Bacardi rum.
As part of its operations in the US, Bacardi partnered up with FIU's Chaplin School of Hospitality & Tourism Management– a Top 10 US public hospitality school- to open the Bacardi Center of Excellence: a unique educational partnership focused mainly on innovation and entrepreneurship. Bacardi Center of Excellence at FIU teamed up with Cecilia.ai to blend its robotic bartender as a part of the curriculum for enriching the students in the fields of hospitality innovation, alternate solutions, and combining mixology with technology.
During the program, mixologists from the school's award-winning student club, the FIU Bartender's Guild, will learn how to build a cocktail menu, invent recipes and mixes, and implement them in Cecilia.ai until it makes the perfect cocktail. "A machine can never replace human interaction," says Brian Connors, Director of The FIU Bacardi Center of Excellence, "but this groundbreaking technology can offer up a customizable and interactive solution when a live bartender is not either practical or possible. It also provides a critical teaching moment on customer preferences, branding possibilities, and service alternatives."
"We officially launched Cecilia.ai in the U.S. last November during our first business trip to Miami and Las Vegas, and the fact that we've already signed a partnership with an important client in the hospitality industry such as Bacardi Center of Excellence at FIU shows the belief in and the need for our kind of product." Says Elad Kobi, CEO of Cecilia.ai, "It's our first strategic customer in the United States; we're extremely excited about the upcoming debut. It's a significant foothold for Cecilia.ai in the American market, and we're thrilled about what's expected for us later this year".
To celebrate the official launch and draw more interest to the school's program, Cecilia.ai will be making cocktails at the upcoming Food Network & Cooking Channel South Beach Wine & Food Festival presented by Capital One (SOBEWFF®), that'll take place February 24-27, 2022. During the festival, over 1,200 students and one robotic bartender will cooperate with culinary and industry experts to demonstrate their knowledge and skills. Bacardi Center of Excellence at FIU sees this as a great opportunity to reveal Cecilia and use her to introduce the guests to the program and the innovation that the school is aiming for.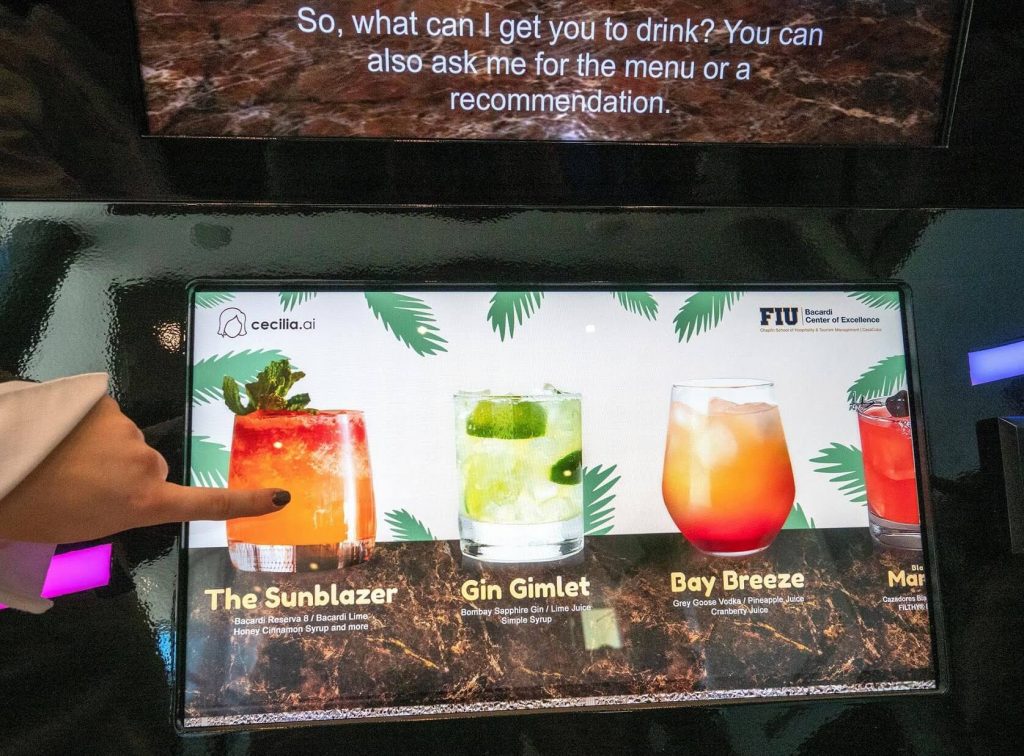 ---

About Cecilia.ai
Cecilia.ai is the world's first interactive robotic bartender, customized for every business and event. Powered by conversational AI and voice recognition abilities, Cecilia is not your typical bartender. She makes delicious cocktails crafted by acclaimed mixologists, chats with customers, tells jokes, promotes your brand, and provides an unforgettable experience to new and returning visitors. Cecilia grants businesses valuable customer data, a unique groundbreaking attraction for visitors, and a new way to advertise and stand out.
About FIU's Bacardi Center of Excellence
The Chaplin School of Hospitality & Tourism Management at Florida International University (FIU), a Top 10 US public hospitality school, is home to the Bacardi Center of Excellence, a dynamic educational partnership focused on developing learners of beverage management, fine spirits, industry innovation, sustainability, and entrepreneurship. The Bacardi Center of Excellence brings academia and industry together in a pioneering partnership experience at the Chaplin School.