HAPPY NEW YEAR!
Well, not that 2020 was bad for Israeli startups (You can still download our 2020's startup report by clicking here), but it seems like 2021 has started on the right foot: In just one month, 36 Israeli startups raised a record-breaking $1.3 billion, 4 of them became Unicorns (!). Yup. That's how you start the year.
So, for those of you who don't know the drill: at the beginning of (almost) each month we publish an infographic that summarizes the Israeli startups' investments, as well as deals that were published the previous month, and choose to highlight some of them.
So, here are our startup highlights for January:
On top of the list, with no less than a $300 million Series D, we have the Fintech startup Rapyd. Valued at $2.5B, Rapyd is a Fintech-as-a-Service platform that easily integrates any type of local payment (i.e. bank transfers, e-wallets, local cards, cash, or even collect cash) at more than 2 million ATMs worldwide. Well, they sure know how to make money.
One of the fastest-growing startups in Israel is Drivenets, which just turned into a Unicorn after hauling a $208 million investment at more than a $1B valuation. Drivenets is aiming to build the network cloud infrastructure of the future and have raised $325 million in total. 
The second Unicorn is OwnBackup, the #1 cloud data protection platform for SalesForce with over 2,980 customers who use the platform to protect their data and metadata from irreversible damage usually caused by human error. OwnBackup added $162.5 million to its D Round and is now valued at $1.4 billion. 
Among the rising startups of the pandemic, there's the telemedicine app K Health, which raised $90 million in two rounds during 2020, and now added a $132 million investment in Series E at over a $1.4B valuation. A Unicorona. 
The year of Fintech? Payments startup Melio was paid $110 million and became a Unicorn with a $1.3B valuation. However, the dazzling fact about Melio is that the company was only founded in 2018, and has managed to raise $256 million and become a Unicorn in less than a year! Just in case you were wondering, Melio is a B2B payment solution, helping small businesses pay for vendors and contractors more easily. It certainly paid off. 
Time to calm down a bit and lower the numbers back to 8 digits. We'll start off with Ukko and its $40 million investment. Ukko is a Biotech company, developing a new way to fight food allergies using cutting edge technologies in immunity, computational biology, and protein engineering. The company began clinical trials for treating peanut allergy and designing a special Gluten for people with celiac disease.      
Run:AI is a startup founded in 2018 that helps developers… run AI. AI models can take hours, days, or even weeks to process, and you know the saying: time is money. For that reason, Run:AI raised $30 million this month to orchestrate and distribute AI workloads and create unlimited computations to make everything go faster… or something like that.
 "Imagine a world where things feel". That's the tagline that leads Feelit, the developer of RetroFeel™: a remote sensing platform for mechanical assets that utilizes a revolutionary nanomaterial printing technology to detect structural changes in real-time. Feelit touched a 5$ million investment last month.
Can AI help bring babies? If you ask Yael Gold-Zamir, Founder & CEO of Embryonics, the answer is "YES!". The new-ish startup aims to revolutionize fertility treatments by developing an algorithm that predicts the success and probability of IVF (In-vitro Fertilization). This idea helped bring a $4 million investment to life, in part by the Israeli Innovation Authority, and enables Embryonics to continue its research.   
The last one, with a $1 million investment, is an app built for Israelis called Chatlist. It's a social media app with Tinder-like UX for real estate, for finding rental homes. The users swipe left or right through properties, and if they find one that matches their interests, they can start chatting with the owner immediately. Hope the lease will last longer than one night.
Well, just as promised, here's January's Infographic: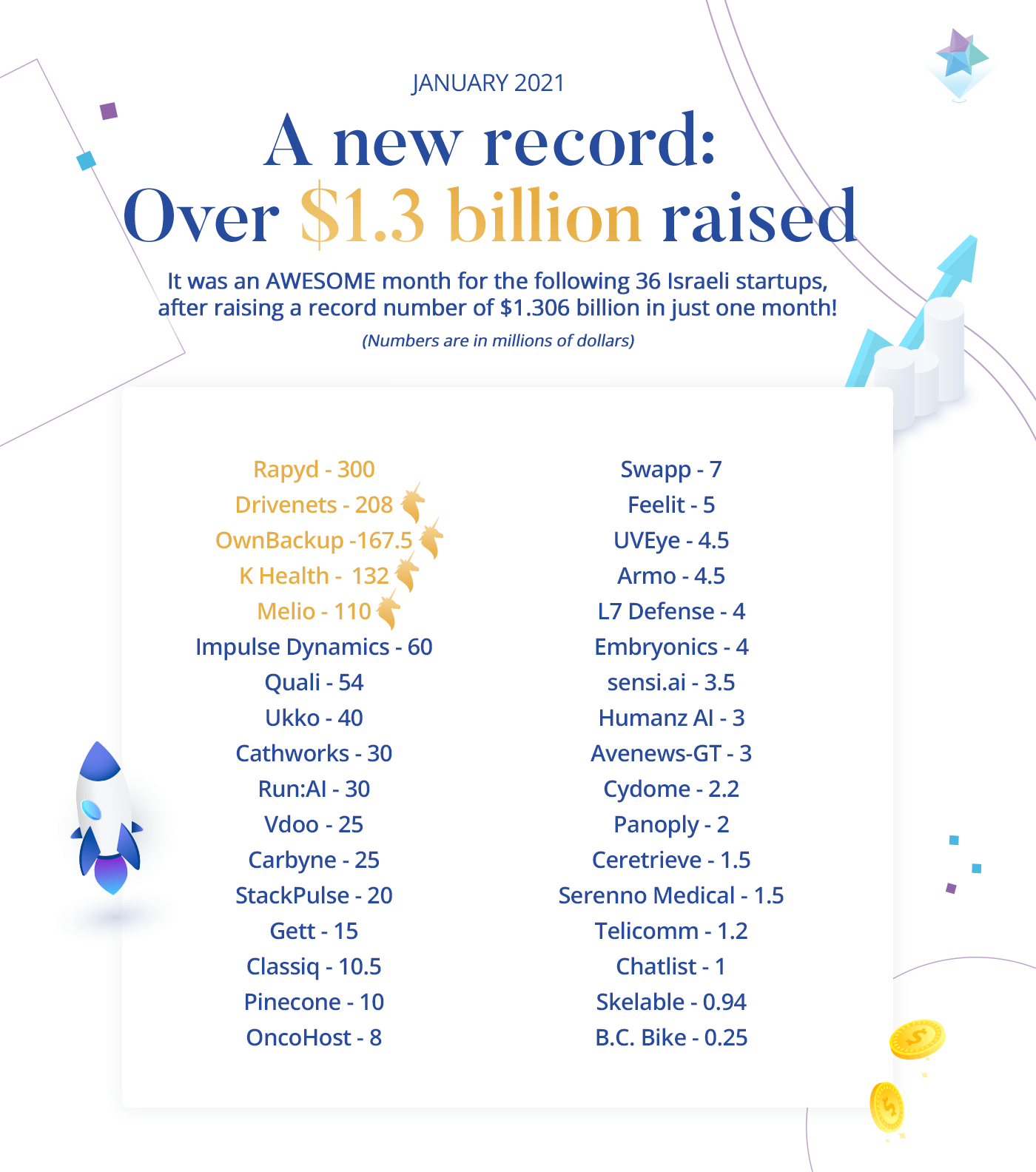 A year that starts with four new unicorns and deals totaling $1.3 billion cannot be that bad, right? We'll just have to see how February turns out.
In the meantime, don't forget to take a look at our 2020's startup investments summary, if you still haven't.