As technology advances and AI becomes more accessible, it is no wonder that robots for the food and beverage industry are becoming more commonplace.
Restaurants and hotels can benefit from these robots, which are automatic, intelligent, and contactless. They can automate the food or beverage-making process, save money and human resources, enrich menus, make fewer mistakes, reduce food waste, and work 24/7 without a raise. Aside from being pretty damn cool and bringing innovation into businesses, customer-facing robots can help reduce human contact, a significant benefit at COVID-19. 
In this article, we're going to tell you about 10 of the latest innovations and robots for the F&B industry that will help you automate your business and take it to the next level.
Bon Appetit!
Sally by Chowbotics – The Salad Making Robot
Recently acquired by delivery startup DoorDash, Sally is a salad-making robot, mixing up to 8 fresh ingredients from vegetables to salmon into a compostable bowl in just 90 seconds!
Along with providing a quick and fun experience for customers, Sally also helps fast-food chains expand their menu and add salads and healthier options without hiring additional staff or changing anything in their kitchen.  
Cecilia.ai – An Interactive Robot Bartender
Imagine if you could upgrade your drinks menu with premium cocktails mixed automatically by a friendly and entertaining bartender? Imagine no more. Cecilia.ai is a smart, interactive bartender that can be placed almost anywhere, serve mixed drinks in less than 30 seconds, and give customers guidance about the menu using AI and speech recognition.
This robotic bartending (and super-cool) unit has a small footprint, and could be easily installed and used as the main or an extra bartender in hotels, casinos and restaurants.  
Bobacino – Automated Boba Bar
Wait, what's boba?
Boba, also known as Bubble Tea, is a popular drink from Asia, invented in Taiwan, and made of four basic ingredients: tea, sweetened milk, syrup and tapioca balls.
The Bobacino, developed by Future Pearl Labs, is a 16 sq ft robotic shop that uses mechanical arms to make this delicious Boba drink automatically and wrap it with plastic so the drink won't spill on its way to the client.
The company, now using crowdfunding to raise investments, hopes that the Bobacino will boost the drink's popularity in the US and join the successful $8 billion market of Boba Tea.
Picnic – Automatic pizza maker
Everybody loves pizza. That's a fact, like saying that the sun sets down on the west, that Jeff Bezos is rich or that the Picnic Pizza System will make pizza making a whole lot easier.
The entire process can be automated in this modular and customizable system, starting with spreading the sauce, topping it with cheese, then adding pepperoni and three more ingredients, and baking the pizza.
Picnic can produce hundreds of pizzas per hour with just one operator, allowing the rest of the staff to be occupied with the rest of the food – not that you need any when pizza is on the menu.
The startup recently raised $16.3 million and has plans to install its robot in schools, stadiums, and hospitals.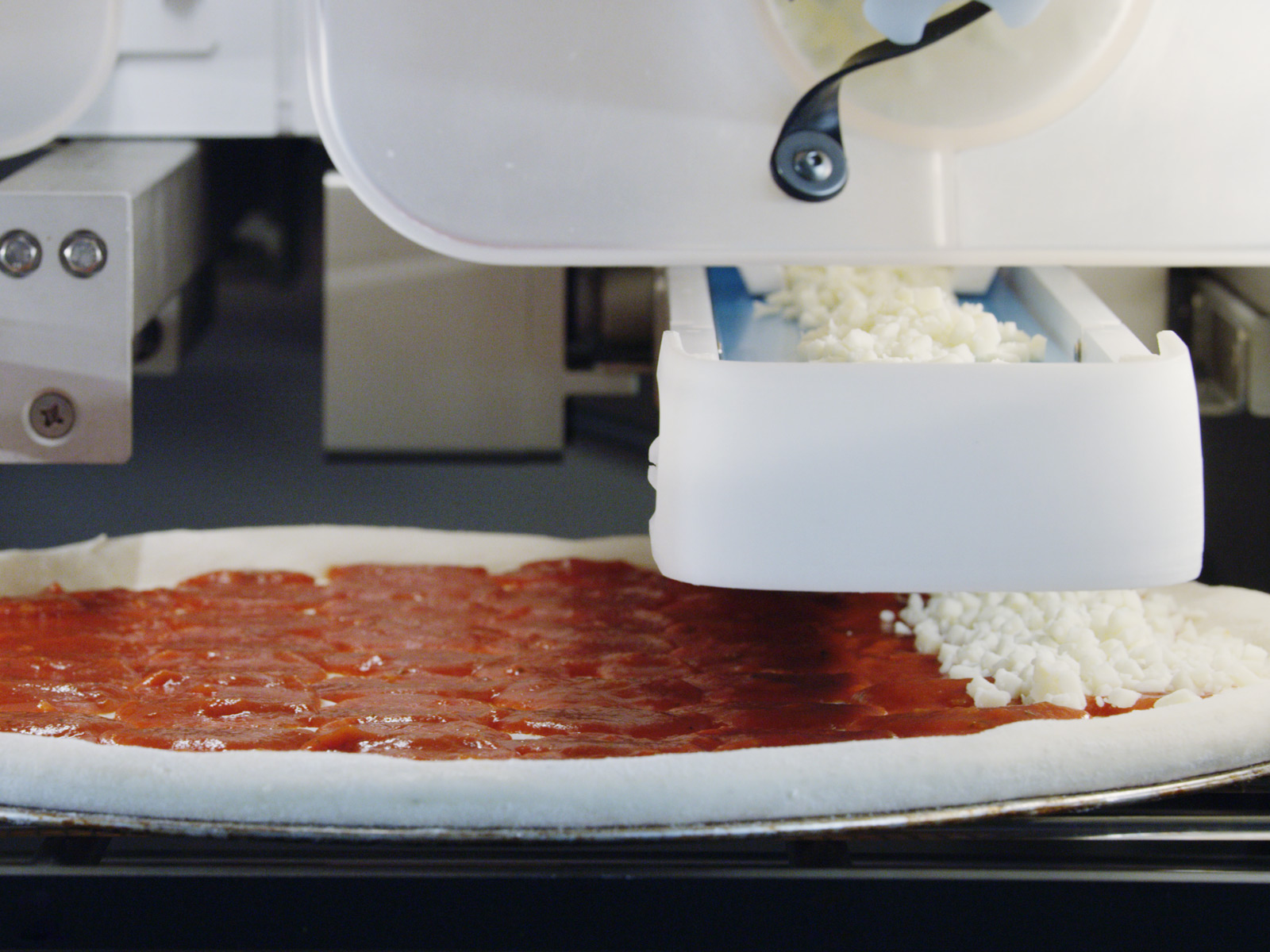 The Mini Bakery – Fully automated loaf maker
The Mini Bakery, built and designed by Wilkinson Baking Company, is a fully automated system for baking bread. It does all the mixing, shaping, proofing, and baking, and it can be sold hot & fresh directly to customers just like a vending machine. Mini Bakery can make 10 loaves per hour, saving ingredients and transportation costs and donating water to Africa for every loaf sold. Even though the system was built for supermarkets, we don't see any reason why it couldn't be used in restaurants or hotel kitchens. 
Miso Robotics – Robotic Kitchen for Fast Food Chains
The company behind Flippy, one of the most famous robotic kitchen assistants in the industry, that can flip burgers and make fries, leaving the human employees to handle less risky and greasy tasks. The system includes the Miso Analytics platform, which provides deep insights and improves food quality with cooking precisely as defined. Among the company's clients are CaliBurger and White Castle, where it flips over 10K burgers and fries more than 12K baskets every month.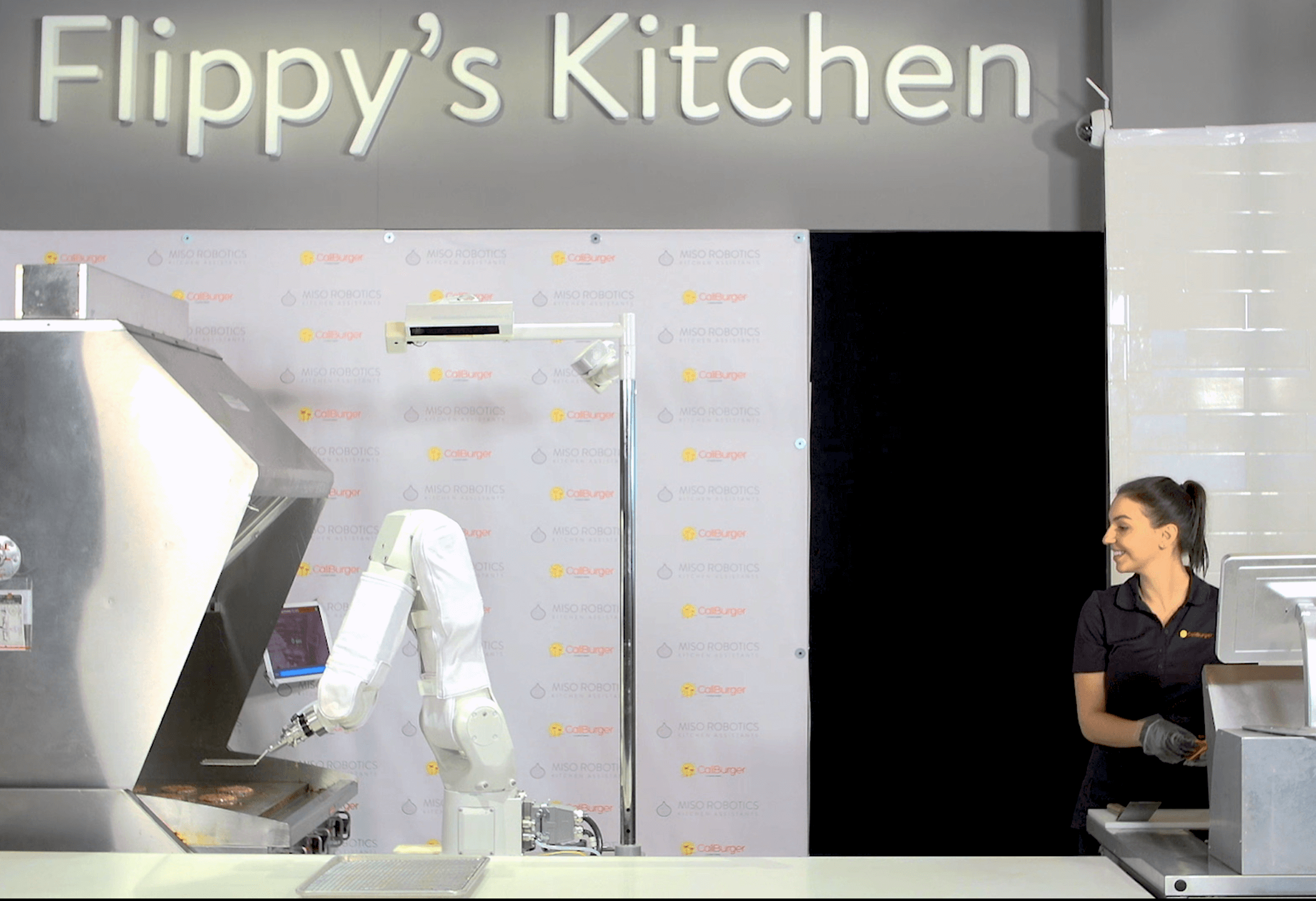 Kitchen Robotics – The world's first Robotic Dark Kitchen
A new Israeli competitor in the robotic kitchens section is called, unsurprisingly, Kitchen Robotics. The startup, founded in 2018, developed Beastro, a robot built for "Dark Kitchens." The Dark Kitchen, also referred to as ghost kitchens and virtual kitchens is a kitchen space devoted exclusively to delivery-only restaurants, a trend that has seen a meteoric rise since the global pandemic began in 2020.
Beastro can be customized to automatically prepare any type of dish, prepare about 45 dishes per hour, collect analytics, and fully integrate with Cuismo, the company's online restaurant, and dark kitchen management software.
TrueBird – Fully automated micro-cafe
While there are many (well, "many" is a relative term in this line of business) coffee-making robots and "old school" vending machines, TrueBird is looking to bring something new to the table. The company partnered with craft breweries in NYC to give customers quality coffee at a reasonable price, automatically made and by a 20 sq ft sized kiosk, that serves you the cup using three little magnets. Seriously, check out their video.
While TrueBird's primary business model is to open dozens of automatically operated coffee shops in public spaces across the country, we can see no reason why you shouldn't set up one in your hotel or airport lounge.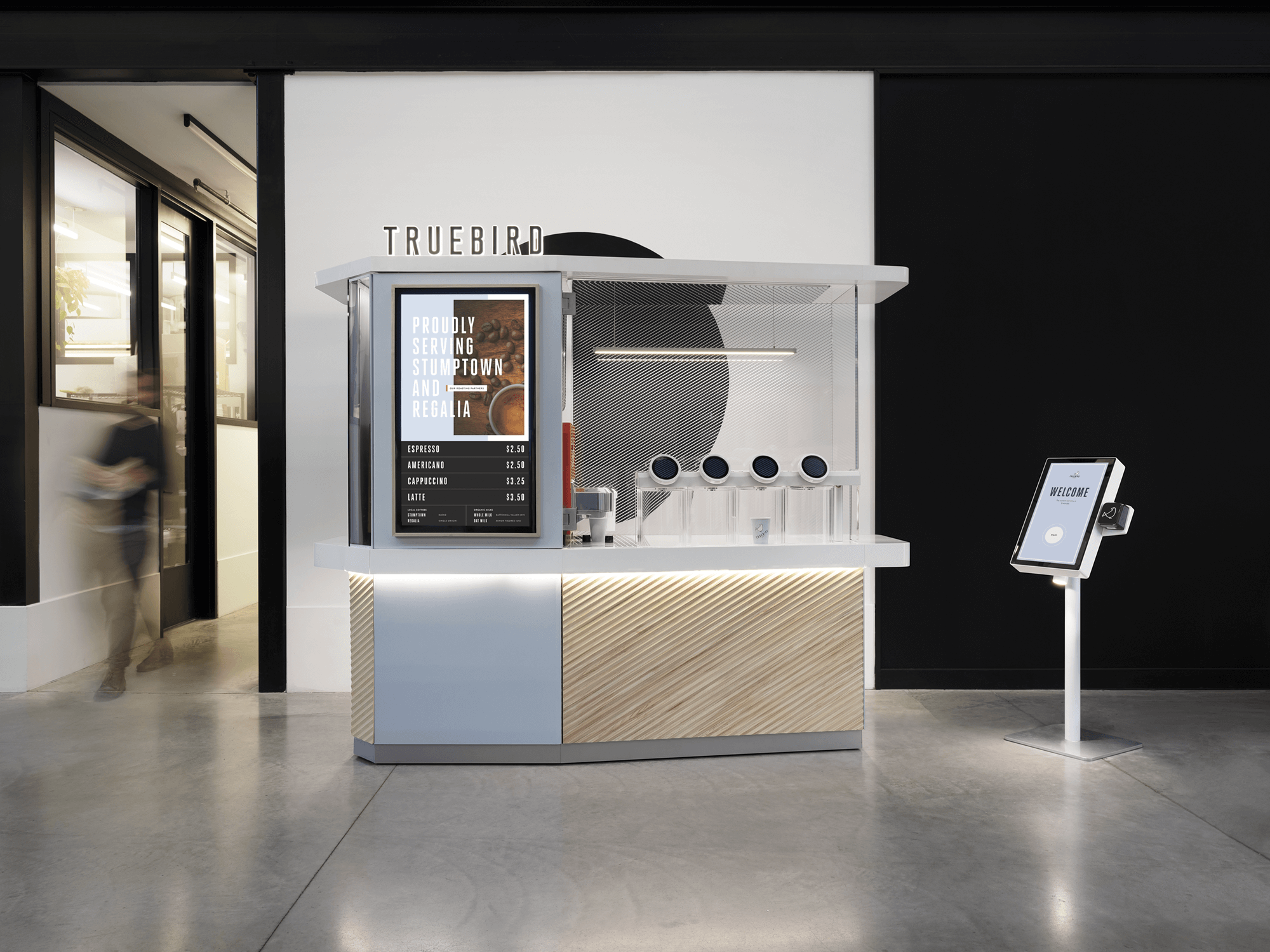 Winecab – Robotic Wine Cabinet 
Every wine collector takes care of his collection as if it were his own child; labeling it, keeping it clean, not letting anyone around it… Now, Winecab takes it to the next level.
The robotic wine cabinet, developed by Calvary Robotics, is a luxurious (and expensive) looking cabinet that comes in different shapes and sizes and can store from 250 to 600 bottles.
The wines are locked inside, automatically sorted and categorized, have wine-pairing recommendations, and use a mechanical arm to serve you or your clients the requested bottle. Basically put, it's like having a robotic sommelier.  
Smile Robotics – Plates-collecting robot
Are you done eating? Time to clean up and pick up the plates. ACUR-C by Japanese company Smile Robotics is an automatic robot for serving and collecting dishes in restaurants, clinics, nursing homes, hotels, and more. The robot moves autonomously between tables, picking up trays with its robotic arm and bringing them back to the kitchen. We need this at home. 
The rise of automation and robots for the food and beverage industry may appear daunting to those who believe machines will ultimately replace humans. However, it seems likely that we will still be around for quite some time. Most of these systems are still quite expensive and are intended for filling in the gaps throughout the workforce (a major issue created by COVID-19), either to work alongside human employees so they can focus on more complex tasks, or just to serve as additional revenue sources or a tourist attraction. 
We believe that we will see more and more robots and machines in restaurants and hotels, making delicious meals or mixing fantastic cocktails (we know someone who can do that…).
Innovating the food and beverage industry is essential and will be beneficial for both the business and the customers.