Investment-wise, 2021 is crazy. Like, really crazy. We thought that after last month's record-breaking number of $2.87 billion investments, things would settle down a bit, but the truth is far from it. 48 Israeli startups raised over $2.36 billion, with nearly $1 billion announced on the same day with Trax's record-breaking $640 million investment and Redis Labs' $310 million.
At the top of the list, as mentioned, is Singapore-based Trax, which develops a computer vision solution for retail and has raised the highest number ever documented In Israel: $640 million! In just one Series E round! Well, actually, this round included primary and secondary capital, and brought the company's value up to $2 billion.
Next one, also mentioned, is the Open Source platform developer Redis Labs, who brought in a fresh $110 million investment plus a $200 million secondary investment. 
Redis Labs is the developer of the Redis real-time database for business-critical applications, used by leading organizations worldwide. 
Let's welcome our new member of the Unicorn club, US-based fintech startup Deel, that arrived to Unicorn status in no time after raising $156 million, just six months after the last reported round. Deel helps companies with international payroll, benefits, taxes, and compliance in 150 countries.
Heading on to a $100 million investment in a startup that can save lives. c2i Genomics, founded in 2019, is aiming to solve Cancer's biggest problems: over- and under- treatment. The company developed a blood test (liquid biopsy) that can detect tiny amounts of residual cancer, to monitor tumor tissues that cannot be detected with other measures.  
A bit below, with $96 million, we have another medical startup. Say hello to Memic, the developers of Hominis: an FDA authorized robotic-assisted surgical platform for transvaginal gynecologic procedures. Well, good luck!
Eight months following their previous round, TipRanks makes it to the list once more with a $77 million investment. TipRanks is a big data platform for finance, with recommendations for smarter investing, stock research, portfolio management, and more. Well, with that knowledge in finance, we'd be raising money every day.
Look who's back after a long Covid-19 hibernation: the travel startup Guesty. The company, which now announced a $50 million investment and a sign of optimism for the industry, is developing a platform for managing properties such as Airbnbs, serviced apartments, vacation rentals, and even Glamping. Hope they'll use the money to go on vacation.
Another $50 million goes to Placer.ai, an analytics platform that helps companies gain unprecedented visibility and actionable insights for any location with accurate foot traffic, visitations, and trade areas. The perfect tool to grow your business.
The world of marketing and advertising is difficult, but not as hard or exhausting as trying to sell cannabis. Fyllo is a new marketing platform for cannabis and other regulated industries that helps publishers comply with all necessary regulations and streamlines the entire process. The company raised $30 million this month, and $46 million in total. Happy regulating!
Another record was broken in April as Talon Cyber Security raised a $26 million seed round- the biggest seed round in Israel. Talon looks to solve one of the biggest security risks in the post covid-era- working from home- by separating personal use from work use, thus preventing any unwanted malware from jumping off the employee's PC into the organization. 
Zengo is a non-custodial bitcoin and cryptocurrency wallet that manages to remain totally safe without annoying passwords, private keys, or seed phrases. All you need is facial recognition. Zengo app raised $20 million in a Series A, with real money.  
Ahoy! Time for some maritime innovation with Orca AI, an AI-powered marine collision avoidance system, that makes navigation errorless and flawless. You know, like crashing your massive cargo vessel into the Suez canal and causing a huge traffic jam. A $13 million investment navigated its way to Orca. 
Making it to the list on the last day of April with a $6 million seed round is Sorbet, a new startup trying to tackle one of the biggest financial issues companies face: Paid Time Off (PTO). Unused off days cause a major headache to CFOs, and Sorbet is solving that by buying these PTO liabilities from employees and turning them into prepaid credit cards for the benefit of the employees.
Here it is, this month's infographic: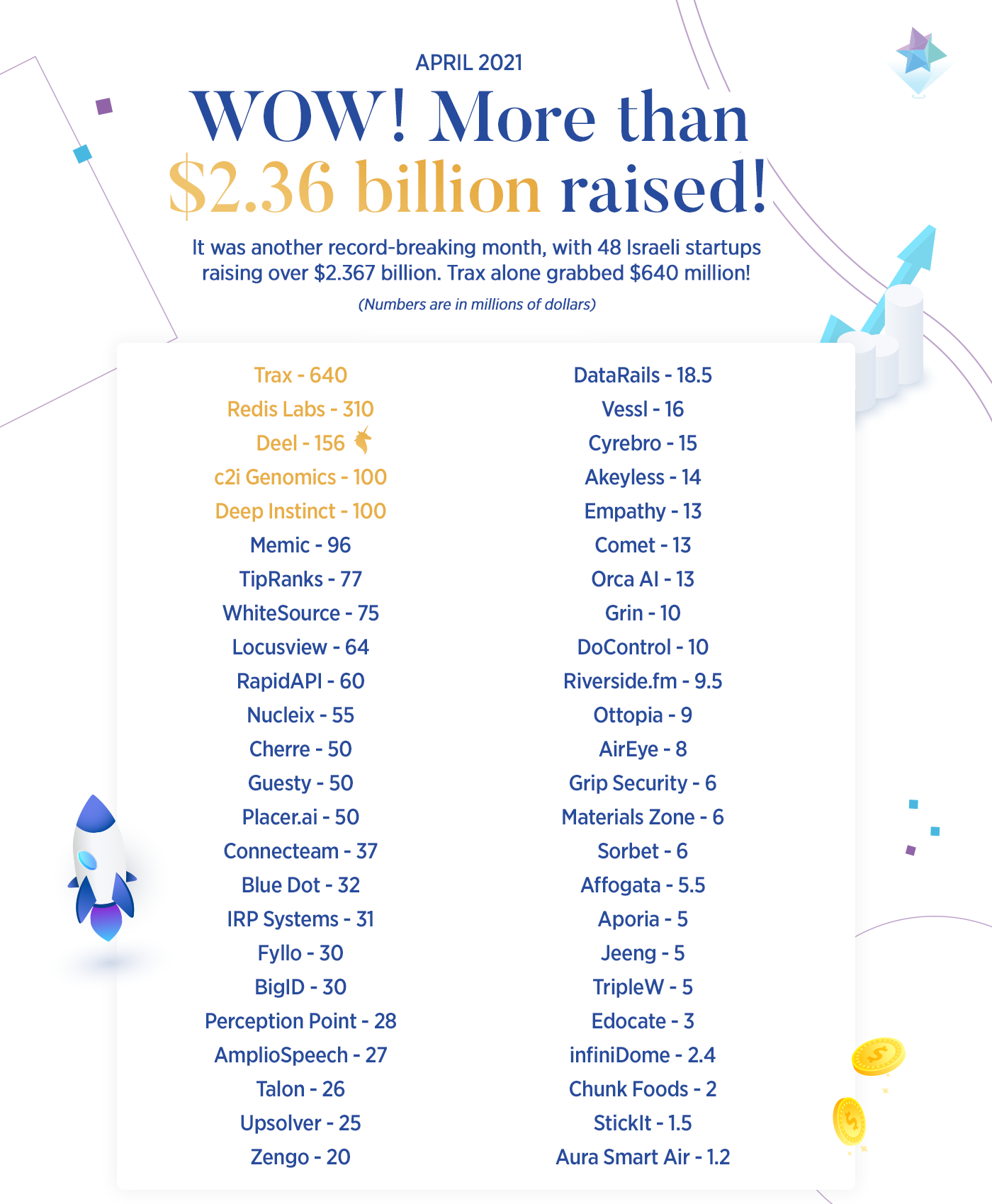 That's it. In just four months, Israeli startups raised about $7.7 billion. Let's see if May will continue this trend, or if things will slow down a bit. Honestly, we're getting tired of using the term "record-breaking" so often.
See you next month!