After a "slow" month, the Israeli startup ecosystem is back, with a number that nearly surpassed September's record-breaking $1.2 billion. This month, we had to "only" settle for $1.1 billion, mainly thanks to SentinelOne's $267 million round; that's about a quarter of the total number.
44 Israeli startups made it to the list this month, but we're short on time and you're short on patience, so picked those that we found most interesting.
The ultimate winner of this month (and probably this year) is the cybersecurity scale-up SentinelOne, which raised a $267 million E Round at more than $3 billion valuation!
SentinelOne is the developer of Singularity, an AI solution aiming to replace the old-fashioned Antivirus and autonomously protect all end-point devices, data centers, and cloud. They should thank COVID-19 for the increased need in online protection. Since 2013, the company has grabbed a total of nearly $700 million.
Let's cut the numbers in half and head to the second one: Cato Networks, with a $130 million E Round and a fresh Unicorn status. Cato Networks is "the world's first Secure Access Service Edge (SASE) platform Converges SD-WAN and Security into the Cloud". We have no idea what it means either, but to put it in simpler terms, it helps users connect to the network from any location. Cato Networks should be thankful for COVID-19 as well. 
A bit below, with $125 million, we have the fraud prevention platform Forter that helps eCommerce customers like ASOS, Priceline, Nordstrom, and more fight fraud in real-time by verifying real users, and protecting them as well as the entire purchasing process. 
We're headed to number #4, and we're still with 9-digit rounds. Inuitive is an Israeli chip developer based in Israel and China, focusing on the development of 3D imaging camera technologies for AR, mobile devices, and robotics. Chinese consortium Yinniu Microelectronics has invested $106 million in the company. Way to go, Inuitive, you really got it Yinniu.
Next up is a startup that I think we've already mentioned a couple of times – Verbit. Verbit is a transcription service, combining AI and professional transcribers to provide customers with 99% accuracy. Verbit employs 22K on-demand transcribers, serving over 400 customers such as courts, conferences, e-learning, and more. They've successfully transcribed more than 30 million minutes last year! No wonder they scored a $60 million investment this month, and $125 million in total.
Autonomous drone solution Percepto announced a surprising collaboration with Boston Dynamics' robot-dog Spot, and a not-so-surprising $45 million B round investment.
The company has developed a solution for industrial sites, enabling its Percepto Sparrow drones to perform tasks like inspection and security autonomously. The latest integration with Boston Dynamics will allow their system to control both the Sparrow and Spot to collect data from the air, ground, and sea. AWESOME!

Here's an idea that was made for COVID-19 times, but the company was actually founded in 2008. ControlUp developed one simple console to manage all the virtual desktops in real-time. ControlUp provides a spreadsheet-like status dashboard showing assets like desktops, virtual machines, and servers that automatically updates every 3 seconds. This year, with the rising need for remote desktop software, the company raised $27 million.
Every startup Amnon Shashua, founder of Mobile, is associated with, arouses much interest from investors as well, and AI21 Labs is no different – it raised $25 million this month. The company's mission is to create AI systems with an unprecedented ability to understand and create natural language. Wordtune, their first product, helps you rework your thoughts into properly-structured writing. And yes, of course, we used Wordtune to revise this passage.
US Citizens? You better check this one out. Obligo is an Israeli Fintech startup founded in 2016 to help you say goodbye to security deposits. Obligo rids both landlords and renters from the burden of security deposits and makes the move-in process as simple as checking in to a hotel. It's a safe and secure solution for both sides, and last month they've secured a $15.5 million investment. 
With all the Black Friday and Cyber Monday madness, you need someone or something to fulfill the orders and handle the item collection in the warehouses. That something is the high-speed warehouse fulfillment system made by Caja Robotics, which picked a $12 million investment this month. What's unique about the company's solution is that it's adaptive, scalable, and can fit in almost any warehouse and infrastructure. 
We fought so many viruses in 2020, that we nearly have forgotten to fight bacteria. Luckily, someone is doing it for us. Founded in 2015, Omnix Medical is a biopharmaceutical company developing the next-generation of antibiotics for the treatment of life-threatening infections involving drug resistant bacteria. After successfully completing testing on animals, the company will use its latest $8.5 million in funding to begin clinical trials with humans. 
Store owners? You better stick around for this one. Glue is a new Israeli startup, founded earlier this year and already raised $8 million to automate customer loyalty programs. The solution will help both big and small chains keep their customers with a branded members club, loyalty features like coupons, and a point earning system, and it's all fully-automated and taken care of, so store managers won't have to.
Motorcycles deserve their own life-saving system like Mobileye too, and that's exactly what Ride Vision is doing. Using its Collision Aversion Technology, riders get alerted on possible collisions, distance keeping, blind spots, and more. It can be installed on any motorcycle to save lives as well as save on insurance costs. Ride Vision has completed a $7 million A Round this month. Will they become the next Mobileye? Only time will tell. 
If it looks like an egg, tastes like an egg, can be used for cooking like an egg, but doesn't hurt any chickens or the Earth like an egg – It must be Zero Egg.  The new, revolutionary Israeli Foodtech startup makes a plant-based egg substitute that can be scrambled, baked, and fluffed just like an ordinary egg. Zero Egg raised $5 million this November, and a total of $6.5 million.
It can be perfectly combined with the cultured-meat startup Meatech 3D, which raised $7 million this month as well. 
If you're fond of quality content like we are, you better check out the new startup Listory, founded earlier this year by Outbrain's founders. You can bet that these guys know a thing or two about content; Listory is the world's first content refinery, helping you read articles curated especially for you and your needs without wasting any precious time, while encouraging you to ACTUALLY read it. Listory is now available on the web or the app, and it just raised $4 million. Happy reading. 
With a line of customers like Verizon Media, Hillary Clinton, BBC, Spotify, and Disney, it's a bit surprising that Riverside.fm has decided to come out of "stealth" only recently. They're the company that raised "only" $2.5 million. Riverside.fm is the easiest way to record high-quality audio and 4K video interview-podcasts, in studio quality, anywhere. The host only needs to share a link with his guests and let the recording begin. 
Saving the best for last, and also because they raised $2.2 million, OutSense Diagnostics is an IoT sensor for toilets that automatically analyzes… poop. Well, you can laugh as much as you want, but by analyzing human waste, you can reveal hidden blood, dehydration, and other life-threatening diseases. The song from the TV-show Scrubs was right- everything comes down to poo. 
As usual, here's the full infographic: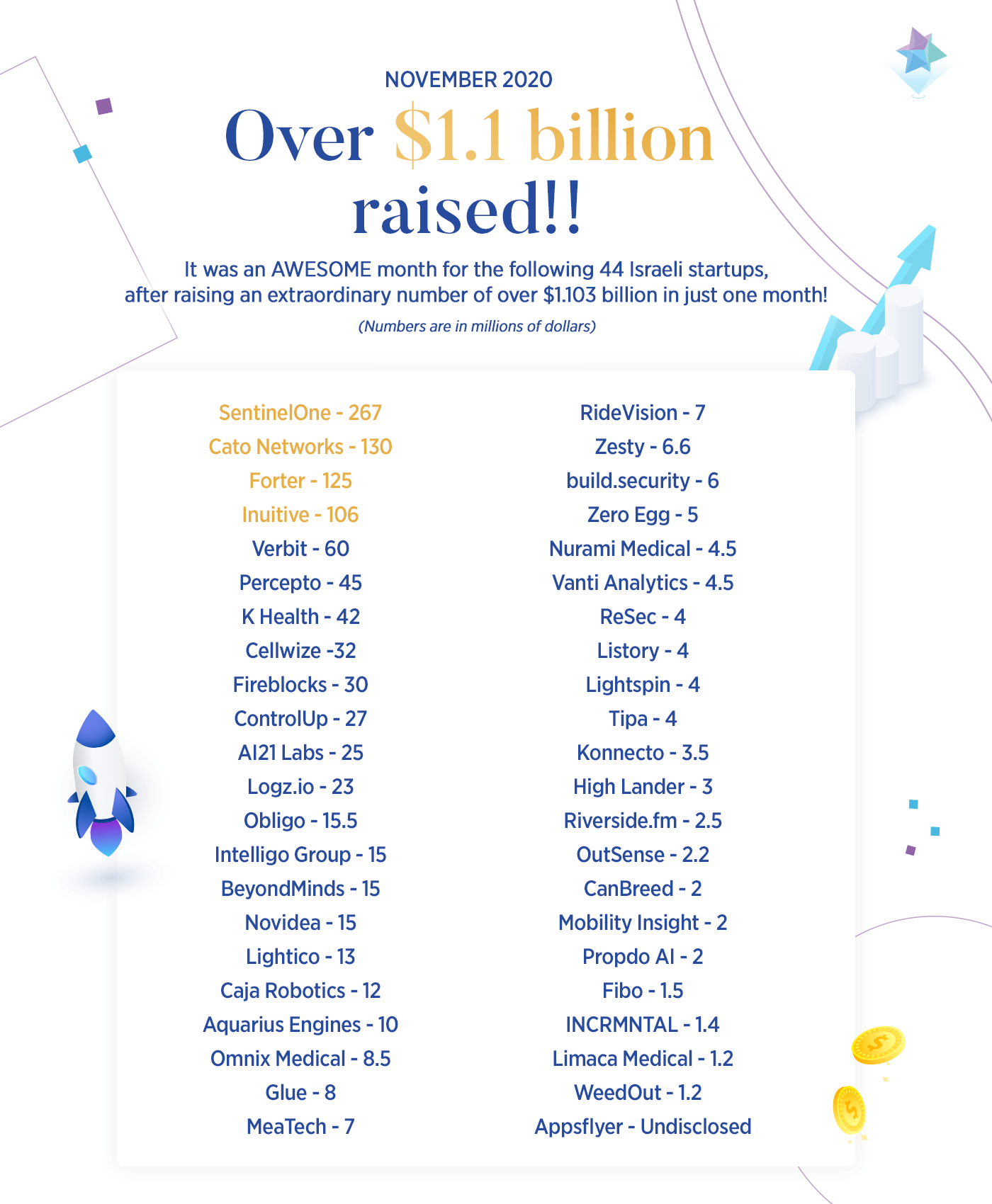 That's it for now. Can't wait to see what the last month of 2020 will hold for us.