Renting a booth or space at massive conferences and exhibitions is an important step for every company, at every stage. New startups are looking to draw more audience, attract investors and catch potential clients, while also hoping to get some media coverage. Big companies are attending to present their latest products, sponsor the event, or just come to show that no event is complete without their presence.
However, companies big and small are all facing the same problem in large conferences, with thousands upon thousands of other companies in one place: competing for attention by standing out.
Now that vaccines are rolling out all over the world and face-to-face conferences are making a comeback, it's time to make the most of it. To help your business or startup become the "star of the show", we've made you a list of the coolest and most innovative conference ideas to make your booth draw more audience.
Crazy Booth Branding & Design 
Using logos, rollups, and signage might help everybody know that you're here, but you need the creative, crazy, and flashing booth ideas for that "wow" effect that will have them coming over.
A Vortex Tunnel Entrance might not be that interesting on the outside, but on the inside, there's an Instagram-worthy photo-op that will give attendees the sci-fi feel. Lead them from a dull conference area into a world of wonders.
Large LED displays are also a good way to catch one's eye while conveying your message, revealing your products, or promoting an "iPhone 12 giveaway!!!".
Using LED furniture (like a large cube or a lounge chair) combines your guests' favorite things: eye candy, colorful photos, and a place to sit.
Projection mapping and media walls are ideal for lighting everything up and getting that futuristic, illuminated look and feel that won't let your booth go unnoticed. The bigger, the better.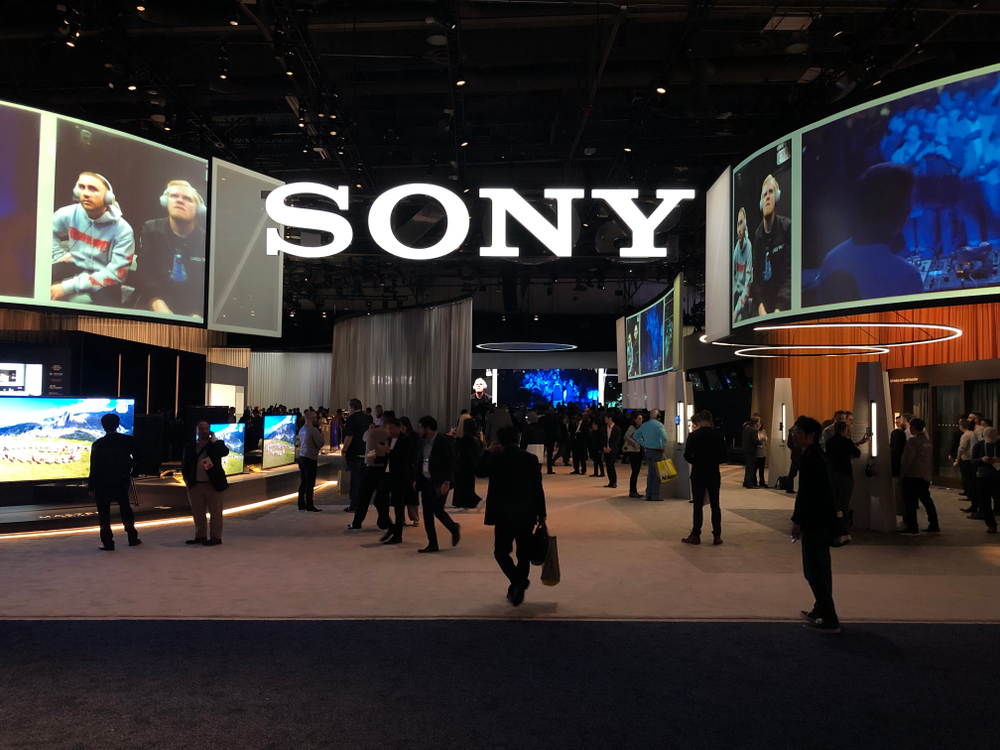 Harness Technology To Show-Off Innovation 
One of the most effective ways to get people to notice and remember you in a tech conference is… well, using technology. Bringing the most cutting-edge technologies and gadgets to your booth will surely place your brand as one of the leading innovative companies. 
The oldest trick in the book is bringing some VR headsets and creating a company-branded VR experience in 360. If done well, it can be pretty exciting and fun, but only for those who are wearing the glasses at that moment… Unless you bring in a few monitors so the rest of the audience can watch as well.  
When VR isn't enough, you can always go with holograms. You can use small holograms on stands to visualize your product or software in 3D, or have human-size projections that'll do the sales talk for you. 
Nothing shouts "innovation" better than robots!
Cecilia.ai is an interactive self-service robotic bartender for businesses and events that will most likely draw the mass of the audience in your direction and have them document that wonder. "She" can be branded with your company's color and messages, talk about your products or the event, and most importantly – make kickass cocktails. And who doesn't love free drinks?
If you need robots to mingle with the crowd, there are few options as well.
Yuki Robot and soon-to-be-retired Pepper are friendly humanoid robots that can roll around, talk with people, or be used as a mobile billboard that invites people to your booth. You must've seen them a few times before welcoming guests into the exhibition area. Seeing them is not as exciting as it used to be, but they still have their charm.
View this post on Instagram
Serve Food and Drinks – In creative ways
As mentioned in the previous paragraph, giving away free drinks and food can really get more people noticing you. Even if they'll be visiting your booth only for a grab-and-go, they'll still remember your brand and savor that swell time.
But, you'll need more than just a cookie.
First, put on a magical mysterious vibe with a nitro desserts station that uses liquid nitrogen to put on a smokey show while serving delicious ice creams, popcorn, and sweets. It may look childish, but hey, tech employees are also into Marvel Comics and toy ducks. No one says "no" to dessert.  
Want your brand to be remembered? You can draw its logo on top of a beer or coffee foam using Ripples bev-top media machine. This popular product, seen on many businesses as well, could be used to "print" just about anything on top of a drink: your logo, QR code, name of event, or the visitor's name (after all, they need something to document). 
We're used to ordering drinks from a vendor, a barista, or even a vending machine, but from a bike? That's a new one. Smoothie Bikes are a really fun and challenging way for health and lifestyle-oriented brands to keep the crowd healthy as well as keep them interested. Using a unique set of bikes with a built-in blender, the users pedal their way until the juice is made. The faster, the better. Gotta try that one!
View this post on Instagram
Game ON
Do you know what most of the audience is looking for in conferences? Fun.
After massive legwork and handshaking with all of the big fish at the event, you'll need to clear your schedule for a little game… or even a gigantic one. 
Place GIANT gaming stations in your section, like a human claw machine, and you can be certain that lots of attendees will gather to participate or document. 
If you're looking for a less extreme option, you can always count on the retro magic of arcade games like Pacman, Space Invaders, or any game that may be related to your brand or product. Putting on a scoreboard and offering prizes will draw even more people (as well as their contact information).
"Okay, Alex, I'll take the 'iPad Jeopardy Wall for Events'."
That would be the answer to a question such as "What interactive attraction could be perfect to quiz my employees during company events or challenge random crowds on a subject that my company specializes in?".
We started big, but let's go bigger. If you have a budget like Google does, you can always build your own giant gumball machine. Google uses this crazy product to promote their voice assistant giveaway prizes (that are worth more than a gumball, we hope) and to show off, because… it's Google.
The @Google Assistant Gumball Machine is cracking jokes and giving out prizes. #AI #HeyGoogle #cesIEEE #CES2018 #IEEE #CES #tech #technology #engineer #engineering https://t.co/g8xJAjGzmi pic.twitter.com/vjNRnOgYi7

— IEEE (@IEEEorg) January 11, 2018
So, to sum things up…
Although some innovative conference ideas and attractions may be a bit pricey for smaller companies, they hold great benefits:
More attention = More business opportunities = More of what you really came for

Get noticed by the media and reporters, looking for the next big thing that will star in their video or written summary of that conference. 

Free publicity on every social media by enthusiastic attendees. As long as your booth has the coolest attraction, more influencers or social media users would love to spread the word to show the world "how cool it is!"

Make your brand more memorable and likable. Positive experiences by attendees will put your business on top of their minds even after the event is over. 

Creativity sells better, or will at least get more people interested in what you have to say. Other than handing out one-pagers and having sales reps dangle around the attendees – make the crowd come to you.
There are plenty of other solutions, in every budget, but just remember – you don't always have to go big, you just have to dazzle. You can use the solutions above, or get creative while thinking of new ideas to make your booth draw more audience. 
The most important thing is that the attraction will speak for your brand and its values, will get people to remember you (and show you on social media), and help you close more deals during or after the event.