Hey everyone,
After some insane months in which Israeli startups raised over $2 billion, broke records, and became Unicorns, it's finally time for a break and return to the old, regular numbers.
WHO ARE WE KIDDING?
Yup. Even in July, Israeli startups crossed the $2 billion mark. To be more precise, 49 startups and well-established scale-ups raised $2.571 billion.
That truly makes us wonder if there's any more money left in the world.
On top of the list, we have the cryptocurrency infrastructure startup Fireblocks with a $310 million funding round, following their previous $133 million C Round only four months ago. Fireblocks turned into a double unicorn, as their valuation rose up to $2.2 billion. Damn, crypto is hot!
The famous Cybereason is just as unstoppable, with a fresh $275 million F Round that has resulted in the company's total investments to $660 million, as well as the acquisition of another Israeli security analysis Empow at an undisclosed amount.
The face recognition startup AnyVision raised $235 million, but actually made headlines after the company's CEO said that tech employees in Israel get paid too much. Ouch.
Recommendation platform and one of the largest Adtech companies in Israel (and the world), Outbrain, just went public this month! Woohooo!
But, wait, before that happened, they've raised an extra $200 million to boost things up before the IPO.
Well, congratulations on both!
Wiliot is developing innovative Bluetooth tags that can turn every product into a smart, connected product with no batteries necessary. The Wiliot IoT Pixel is a tag which can be placed on foods, goods, medicine, and more to collect data and transmit it to the cloud. That idea gave them a $200 million investment, and a fresh Unicorn status and valuation. Cool!
Another entrant to the Unicorn club is the cyber insurance startup At Bay, which raised $185 million. At Bay covers companies and enterprises from digital risks like ransomware, system failures, cryptojacking, and more.
The future is meatless and cruelty-free, or at least that's what the numbers are telling us: Aleph Farms, a magical startup that makes slaughter-free cultivated meats, just raised $105 million– the largest funding round for a Foodtech startup in Israel.
Aiming for the moon once more: SpaceIL, the Israeli non-profit organization that built the spacecraft Beresheet and failed to land it on the moon in 2019, has raised $70 million to focus on project Beresheet 2. Time to reach for the stars!
Tailor Brands, the company that aims to eliminate the need for graphic designers with automatic branding and logo creation powered by AI, raised $50 million from GoDaddy! Kind of an interesting partnership…
Uniper Care, a startup that we gladly wrote about a while ago and featured on our "Startups for Seniors" blog post, finished a $14.5 million A Round this month.
Tax evaders? You better watch out. The new startup IVIX (currently in stealth mode) raised $13 million to help governments and authorities fight tax evasion with help from AI. Well… good luck!
The world is going contactless, and so are the grocery stores and supermarkets. Shopic developed a clip-on device that can turn every cart into a smart cart using computer vision to enable customers a frictionless experience on their way to self check-out. Shopic added a $10 million investment into their cart. 
In the spirit of the Olympics, time for some sports-tech. Zone7 is a platform that uses AI to predict injuries for athletes- based on medical information, wearable devices, and more- and helps teams manage their players to reduce chances of injuries by 75%.
Zone7 raised $8 million. That's one for next year.
Continuing with sports tech, let's race down to the bottom of the list and meet Griiip, an interesting startup that gripped an undisclosed investment from Porsche. The startup developed a Racing Media Platform that transmits motorsport data from the racing car, so viewers can also know what's going on inside. 
And that's what you came in for – the monthly infographic: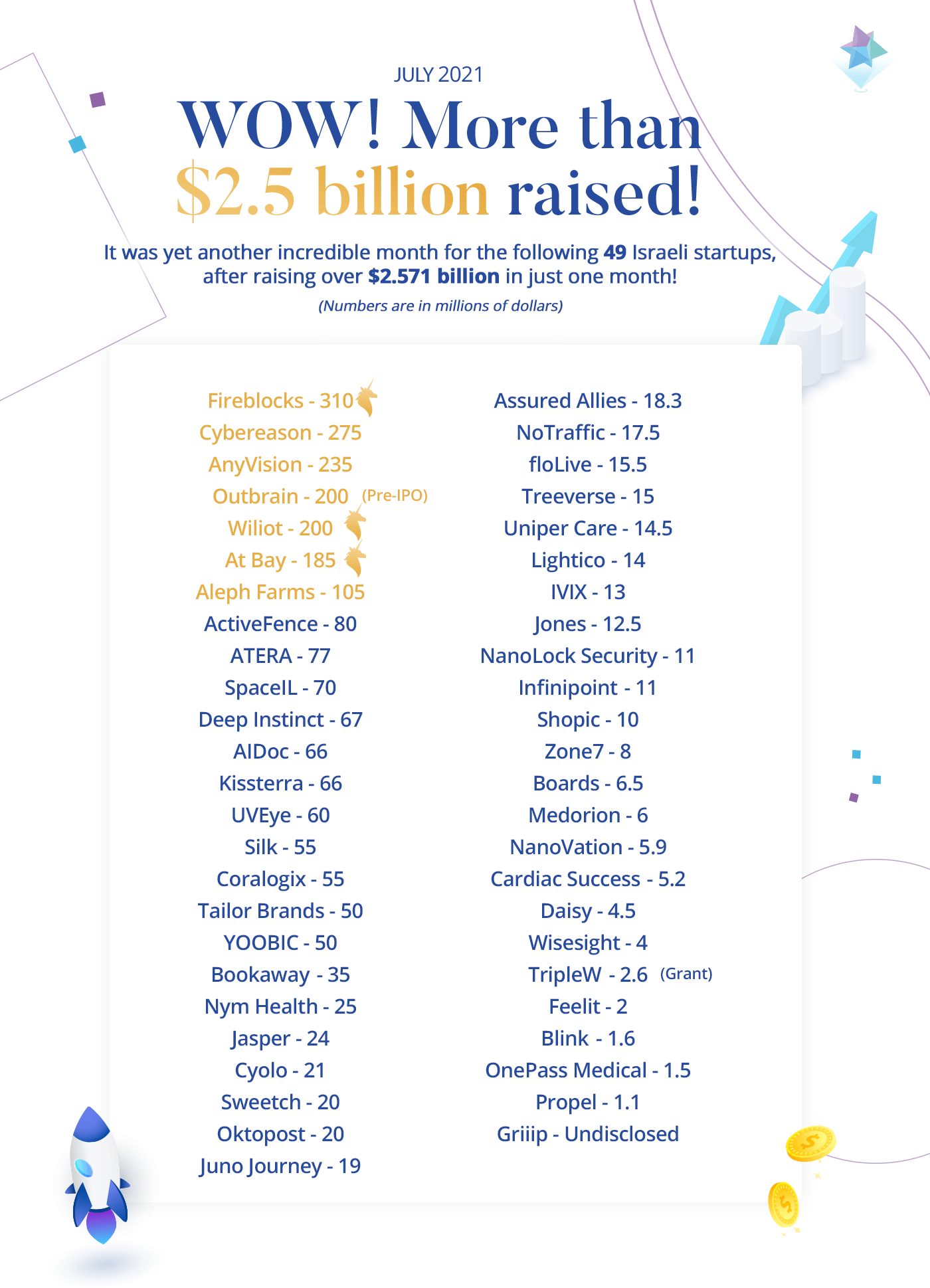 That's it! See you next month!
Also, don't miss out on our interview with Hyper Food Robotics – an interesting autonomous fast food robot that will probably star on this list someday!