WITH OVER 300 STARTUPS, HUNDREDS OF DEALS AND A NEW HUB UNDER CONSTRUCTION, YOU CAN PRETTY MUCH SAY THAT THE FOODTECH ECOSYSTEM IN ISRAEL IS THRIVING. WITH THE HELP OF UMATCH ANALYTICS, IT'S TIME TO SHOW YOU WHAT'S COOKING.
In recent years the Foodtech industry in General and the Israeli Foodtech, in particular, is growing and expanding at a fast rate, just like the need for new technologies. The industry across the globe is starting to realize that due to the massive growth in world population the demand for food consumption is about to increase by 70% worldwide. So it is only natural that there is a need to create and invent new technologies and categories for food production and manufacture.
In Israel alone there has been a massive growth in this field over the last few years. New young and ambitious startups have started to emerge, and the big corporates have begun to look for new and creative ways to expand and reach the market – from developing new kinds of foods (Say hi to Hargol Foodtech), to creating healthier foods, monitor nutrition or just help with the logistics, it's all happening here.
In this article with the help of Umatch Analytics – a BI platform, we will try and present a roadmap to this fast-paced, growing field while highlighting all the major transactions, acquisitions and companies worth knowing. [Full Disclosure – Umatch Analytics is in GKI Group's portfolio of investments]
[Information by Umatch Analytics. Click on photo to enlarge]
Like most industries, the Israeli Foodtech industry is also built out of 4 main players, which together form this fast-growing field, when each "player" is divided into one of the main sectors in the industry today. By count, as of today, there are 307 startups in the Israeli Foodtech ecosystem, when only in 2015, 55 of them were founded.
Alongside them, there are the big companies and corporates that add up to 243 and includes among others big corporations such as Tnuva, Coca-Cola, Strauss Group and others.
The other two players in the field are the investors, 237 by count and of course the academic and research institutes that are dedicated to finding new and groundbreaking innovation in the field.
Leading Foodtech trends in Israel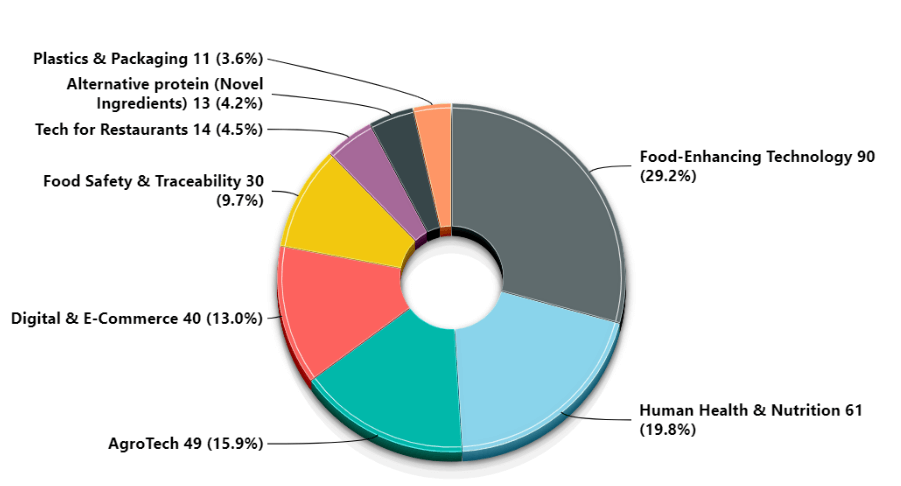 [Information by Umatch Analytics. Click on the photo to enlarge]
According to Umatch Analytics's research, there are eight leading trends leading the Foodtech sector in 2018:
AgroTech – An innovative technology designed to render agricultural production more efficient and profitable. Israeli agtech excellence, e.g., in plant genomics and plant-based protein, is a strong foundation for Foodtech innovation
Alternative protein – such as plant-based meat substitutes and edible insects, provide a substantial amount of protein but require less natural inputs to produce than the most common protein sources, meat and fish.
Digital & E-Commerce – Businesses or commercial transactions carried out utilizing electronic networks, primarily the internet. In the Foodtech industry, eCommerce typically involves online marketplaces or delivery platforms. E-commerce brands can target the right consumers, individualize their journey, and provide a seamless shopping experience. The world's food retailers are shifting to e-commerce instead of traditional selling methods: from plant-based meal kits to one-hour grocery delivery apps.
Food Safety & Traceability – Technologies that track and monitor food production or in other ways reduce the risk of foodborne illnesses. With an increasing demand for food, rigorous testing (Disease Control and Prevention) at every step of the food supply chain is becoming even more essential to circumvent contamination at any point during the process. Online quality and safety sensors, and detecting of the microbial and chemical safety of our products, technologies that can prevent these risks along the value chain – from farm to fork. Food supply chains are complex, and it can be difficult for brands to prove the origins. By using a blockchain platform to track products, brands can track the origins of products in mere seconds.
Food-Enhancing Technology – Includes food personalization, robots & drones, Big Data & Analytics, VR, AI & Machine Learning, food processing, food aesthetics, Supply Chain Tech, 3D Printing, etc.
Human Health & Nutrition – Software and gadgets that empower users to make better and healthier decisions regarding the food they eat. With the rise of health awareness among the public, more consumers taking note of their wellness and trace the food they eat to improve their health and to prevent certain chronic diseases. In 2017 this trend has made in transactions over $70 million.
Plastics & Packaging – Food packaging package provides protection, tampering resistance, and special physical, chemical, or biological needs. It may bear a nutrition facts label and other information about food being offered for sale. Packaging that will keep moisture and oxygen away from foods for a longer time to require less use of preservatives.
Tech for Restaurants – Companies providing technology solutions to restaurants and businesses (mostly SaaS platforms) to enable restaurants to work seamlessly. There are solutions such as HR management, inventory management, order management, marketing, and loyalty program management, etc.
The top ten Israeli Foodtech startups

[Information by Umatch Analytics. Click on photo to enlarge]
These are the top 10 startups in the Foodtech ecosystem to date, based on funding and number of rounds.
The first on the list is the Israeli startup – Trax Image Recognition, that raised their most significant round so far, $125 million, at the beginning of this month. Trax uses computer vision to help brands, CPG (Consumer Packaged Goods) manufacturers and retailers analyze how their products look on the physical shelf and give some useful insights.
Next one is Goji Food Solutions from Kfar Saba that developed a technology for RF Cooking, or solid-state cooking, that uses radio waves to heat materials, such as food.
Next is Vayyar who raised an astonishing $45 million a few months ago. While Vayyar is not focusing solely on Foodtech, its 3D imaging technology could be used to test food safety from the inside out or help retailers by monitoring the shelves.
Atlantium, founded in 2003, the veteran on the list, and the creator of Hydro-Optic UV, a way to treat and clean water, in any industry.
You might haven't heard about Tapingo by now, but this successful startup that was founded in 2011, built an app that lets students order food upfront for pickup or delivery from restaurants across the college campus. This app is available in over 250 campuses across the U.S.
MySupermarket a platform that will let you compare prices between the biggest supermarket branches in Israel. That simple.
Bringg built an Open SaaS platform that helps big and small companies manage complex delivery operations. While it's not a "classic" Foodtech startup, they do work with large food and beverage companies like Coca-Cola and restaurants like Panera Bread.
Farmigo is an online farmer's market, that connects you directly to local producers in your area, for any fresh foods you may need.
Consumer Physics is the developer of SCiO, a sensor that gives its users the ability to scan materials, any material, from fabric to food and get relevant information instantly, like the calories, carbs and water content of an Apple. Magic.
Tipa is trying to make the world a better place by creating compostable bio-material packaging. In simpler words? You can throw your food and its Tipa package in the same organic trash can, and help save the world one bag at a time.
DayTwo recently raised an undisclosed amount from basketball superstar Omri Caspi, has a unique technology that balances blood sugar with personalized nutrition. You can get the kit, send the samples, and download an app with the best menu for you.
Biggest purchases and M&As

[Information by Umatch Analytics. Click on the photo to enlarge]
Over the past few years, there has been several purchases and movements in this breathing changing market that are creating big waves and setting a new tone in this relatively young field. One of those purchases was made in the last year by US flavor and fragrance giant IFF that has acquired Frutarom, the world's sixth-largest flavors and fragrance producer and the seventh largest company on the stock exchange, for $7.1 billion.
A few months before that, Enzymotec was acquired by the same Frutarom for $168 million. Enzymotec is expert in Lipids, develops and manufactures nutritional ingredients and medical foods. Aromor is another Israeli company that produces materials of the flavor and fragrance industry, and IFF acquired them in 2014. Everything comes to down IFF.
Another deal that's worth mentioning is the beverages analytics platform WeissBeerger's, acquisition by Anheuser-Busch InBev, the world's largest brewer (Budweiser, Corona, Stella Artois and more)
The most recent deal in this graph is TenBis's acquisition by the Dutch company Takeaway.com, for $158 million! 10bis, as we call it, is the most famous popular food-ordering service in Israel, working with thousands of businesses (Mostly tech and startup companies) and over 5,000 restaurants across the country.
And finally a taste of what's in store
A new initiative led by JVP and Yozmaleumit ii2020 to build the first Israeli Foodtech ecosystem community at Kiryat Shmona – a Business Accelerator for entrepreneurs and startups in the field and a home for the entire industry to create business connections between startups, global companies, investors and academic research institutes.
As for us? We are making our first steps in the Foodtech world; well sort of, with Robobar, our autonomous cocktail-making robot. Don't forget to stay updated.
All the data in this article is extracted from Umatch Analytics a BI platform, that in collaboration with JVP's initiative has created the most reliable and comprehensive source of information in the field of Israeli FoodTech, which includes hundreds of entrepreneurs, investors, mature business companies and academic research, all from the Israeli FoodTech industry.
Bon Apetitte!
Last update: 31.7.18