Summer vacation is over, September has just begun, and the moment you've all been waiting for has arrived: The latest Israeli startups infographic. Ok, that and sending your kids back to school or kindergarten (if COVID-19 allows it).
This August, 30 Israeli startups raised more than $688 million, but three of them accounted for more than half of the amount: Gong.io, Redis Labs, and Yotpo.
We've picked some companies and did the digging for you, so you won't have to.
Gong.io is a startup providing conversation analytics to help sales teams boost sales. Using AI, Gong automatically records and analyzes sales calls and provides the team with useful insights on what's working and selling, and on what they should improve. The startup, founded in 2015, raised the incredible amount of $200 million this month, at a $2.2 billion valuation!
Redis Labs, an open-source NoSQL Database provider based in Mountain View, California, with offices in Tel-Aviv as well. After working with large enterprises and organizations like Mastercard, Dell, Microsoft, FedEx, and more, Redis Labs entered the Unicorn club with a new $100 million investment.
Yotpo is a successful eCommerce "marketing cloud" platform, offering brands advanced solutions for customer reviews, visual marketing, loyalty programs, referrals, and SMS marketing. In the meantime, they've helped their brand with a $75 million investment led by existing and new investors.
Thriver (previously known as "Platterz") is an Israeli-founded startup based in Canada, built to "Fuel your company culture". Meaning, instead of providing employees with nothing more than food programs like 10Bis, Thriver gives them so much more, tailored especially for COVID-19 era: Virtual experiences, individually packaged meals for employees, prepaid cards for groceries, and more.
The startup was treated with a $33 million investment in Series B funding.
There's a new online supermarket in town (well, the global town), and it's called Quik. They emerged and began with a large marketing campaign just before the Coronavirus hit Israel and forced everyone to order groceries online. The pandemic crisis worked well for Quik, and they've raised NIS 50 million (approx. $14.7 million) to expand their operations.
With a $13.5 million investment, we have Zencity, a platform for data-driven decision making for local governments by collecting millions of residents and city-generated data points, helping the city managers better understand what's going on in their city. Their solution assists local governments to fight COVID-19 in their area by improving communication with residents, tackling misinformation and optimizing reopening efforts.
Voiceitt is harnessing the power of automatic speech recognition to assist people and children with speech and motor disabilities communicate with others. The Voiceitt app learns the user's non-standard speech patterns and their unique way of speaking and translates in real-time through speech and text. This beautiful idea got them a $10 million investment this month, and more than $17 million in total.
It's 2020 (Yes, we're still in 2020), and the world of mobility has changed dramatically, evolved, and now features new means of transportation and services in every big city in the world. But, where's the insurance? That's where Bambi Dynamic, founded in 2017, steps in. They offer white-label solutions for insurance companies to fit the new era: usage-based insurance, shared mobility insurance, autonomous vehicles, and micro-mobility (e-scooters) insurance. The company insured $6 million in A round.
A year and a half ago, we published an interview with a startup for branded swag called 12Buy, powered by its parent company Brandable. After working with different suppliers and trying to keep track of every payment, they came up with a new idea, and so the new company, Approve, was born. Approve is a smart procurement platform, handling the entire process from the initial purchase to the final payment to the supplier. This month, they raised $5 million, that might help them pay for the domain (seriously, how did they get approve.com?).
One of the most interesting technologies on the list is made by the new Israeli startup Hour One that helps companies engage customers with synthetic characters based on real-life people. Using AI and probably some voodoo, the "human" characters can be programmed to say anything and look entirely real, as if a real human was filmed. Hour One generated a $5 million investment to continue development and create thousands of characters. WE'RE ALL REPLACEABLE!
A special honorable mention for a startup that "starred" in two blog articles and raised $4 million this month. We're talking about the elderly-assistance startup Uniper Care, and you can read more about it here.
There's new hope for patients with bladder cancer and it's called Vessi Medical. Instead of complicated surgeries and treatments, their system can treat superficial bladder cancer by freezing it to destroy it. The startup raised $1.7 million in seed funding.
That's one small step for man and one GiantLeap for gamified child development assessments. Yeah, sorry, couldn't resist making that pun. Anyway, this cool, new educational startup called GiantLeap raised $900K this August to help parents discover their child's skills, so one day they might get to the moon, or at least the 12th grade.
So, enough talking. Here's the full infographic. Click to view it in full-size!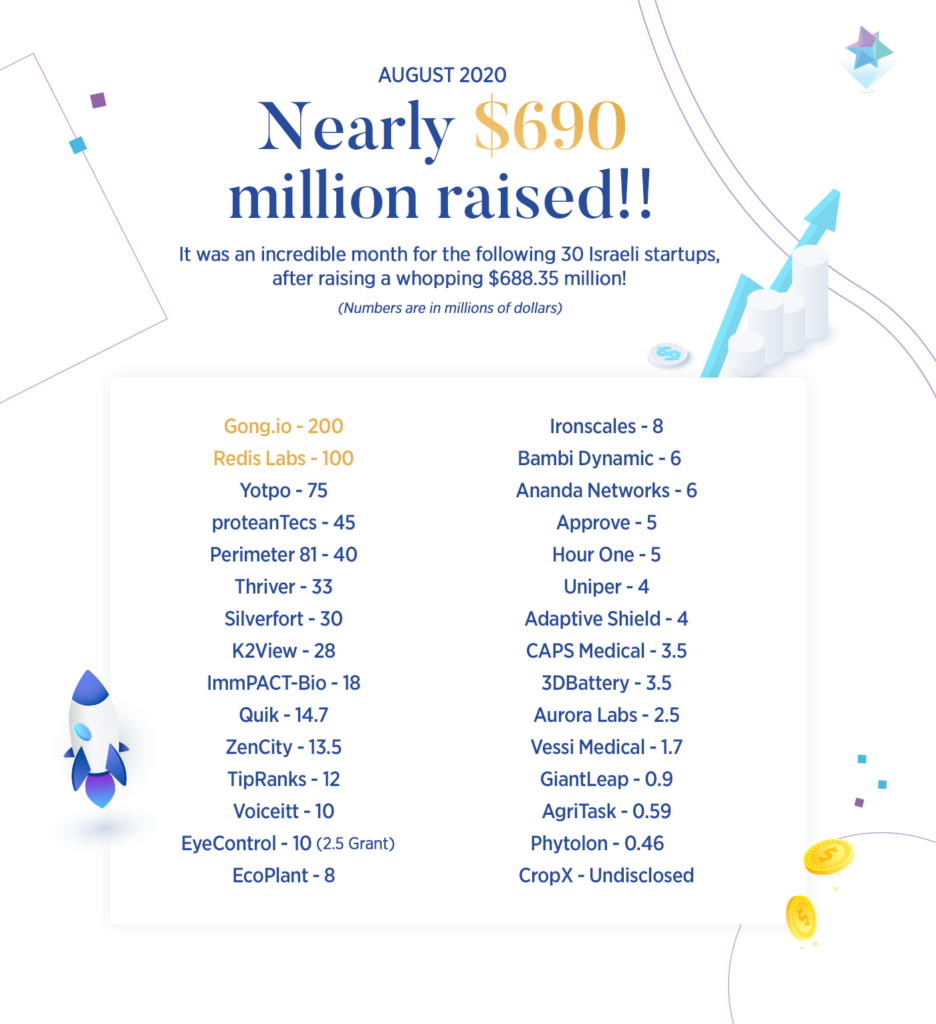 Well, that's it for now. See you here next month, with new startups and surprises. Stay tuned!