Happy November everyone! In just two months, the awful year of 2020 will be over, but in the meantime, it's time to look into the past. In September, Israeli startups raised a record-breaking $1.2 billion in investments, so now, every number would seem "low" compared to this – Even October's $755.64 million, which was totally raised by 43 startups.
So, just like any other month, we've handpicked some Israeli startups worth mentioning.
Leading this month's chart is the payment automation solutions startup Tipalti, a startup with a Hebrew name that means "I took care of it". Well, looks like they took care of it, alright: Over 1,000 customers, over 80% growth, and a $150 million investment at a $2 billion valuation. That's a "wow".

$30 million below that, with a $120 million investment, we have SimilarWeb, one of the best "spies" on the internet. SimilarWeb is providing market intelligence solutions to companies looking for competitor analysis, the latest trends, sales, and more.  Up until now, the company raised more than $230 million, and will use the latest round to acquire new technologies and smaller startups, as well as to hire 200 more employees.

Augury is back with $55 million. The last time we've heard anything from them was in January 2019.
Its super-interesting technology listens to machines to diagnose failures, prevent them, and save lots of money and headaches.

Love online shopping? Good! Meet Syte.ai and their fresh new website, which fits perfectly well with their recent $30 million Series C funding. Syte's product is a Visual AI solution for eCommerce that provides valuable data about customers and their shopping habits, and aims to build the world's best image recognition technology and product discovery platform. 

I don't know if we have the ability to predict the future, but another company that we mentioned on our list of Israeli startups to help you fight with a pandemic-hit world from a few months back, has just made it to the list. We're talking about TechSee's intelligent visual assistance that turned COVID-19 into a $30 million lemonade. 

Got milk? Mileutis is an enthralling biopharmaceutical company from Ness Ziona, developing a drug that treats mastitis in cows using peptides and proteins without antibiotics. Reducing the use of antibiotics in cows and in the milk we consume is crucial, since antibiotic resistance is one of our biggest health hazards. Now, after 14 years of developing the drug, they've raised $20 million to make it happen. Show me the moooney!    

Say hello to the next generation of clinical coding, Nym. Using NLP, Nym automatically identifies and captures every clinical aspect of a chart, and understands what is relevant as well as what is the most accurate code to use. Their technology is designed to simplify and solve the enormous billing problem for healthcare systems in the U.S. that continue to use complicated coding. Looks like they've cracked the code that brought them $16.5 million in Series A funding.

Freelancers? This one's for you. No, it's not a job offer, It's Lili, the new banking app designed for freelancers to help them stay in control and save on taxes – with no fees! The startup was founded in 2018 by Lilac Bar David, who was the Founder & CEO of Israeli banking app Pepper. Now, only four months after Lili's $10 million seed funding, they grabbed an additional $15 million in Series A funding. 

SiteAware once participated in our game of Startupurim, and now they've raised $10 million. Coincidence? Probably. SiteAware's product is shaking up the construction tech industry ("shaking" is a poor choice of words, we know) by harnessing the power of AI and drones to stay on top of construction zones. 

Mine is a powerful tool for online users, which helps them discover where their personal data and entire digital footprint is stored, manage it, and decide whether they'd like to delete it or not.
Incredible for anyone who'd like a safer and more private online experience. Now, to the shocking part – Mine got a $9.5 million investment this month, led by Google's AI fund. Yes, the same Google that makes billions out of users' data.

Ready for the good stuff? Here's Stuff, a voice-operated personal assistant that will make you feel like a billionaire, for only $50 a month. Your personal assistant, employed by Stuff, is able to care for your personal needs, purchase items, handle bills, book hotels or flights, find things no one can, and basically all kinds of stuff. Someone with deep pockets must've really found this useful and made the company $8.6 million richer.   

These days, when every factory or warehouse is getting automated with the help of robots, someone needs to be put in charge to make sure these robots won't take over the world or just "accidentally" bump into humans. That's why Mov.AI was created, to be an operating system for collaborative industrial robots and let autonomous robots work safely together with people and other robots in any environment. Oh, and they closed a $4 million financing round this month.

Working in software sales can become annoying whenever a problem arises with the demo, or if/whenever it simply doesn't suit the potential client. Walnut is a new startup trying to solve that problem with a no-code solution that enables personalizing every sales demo easily- with custom flows, testing different copywriting and images, and more – to create sales experiences that stand out. Walnut, founded only three months ago, raised $2.5 million. Someone must've been really impressed by their sales demo.
Okay, enough with the text, here's the visual content: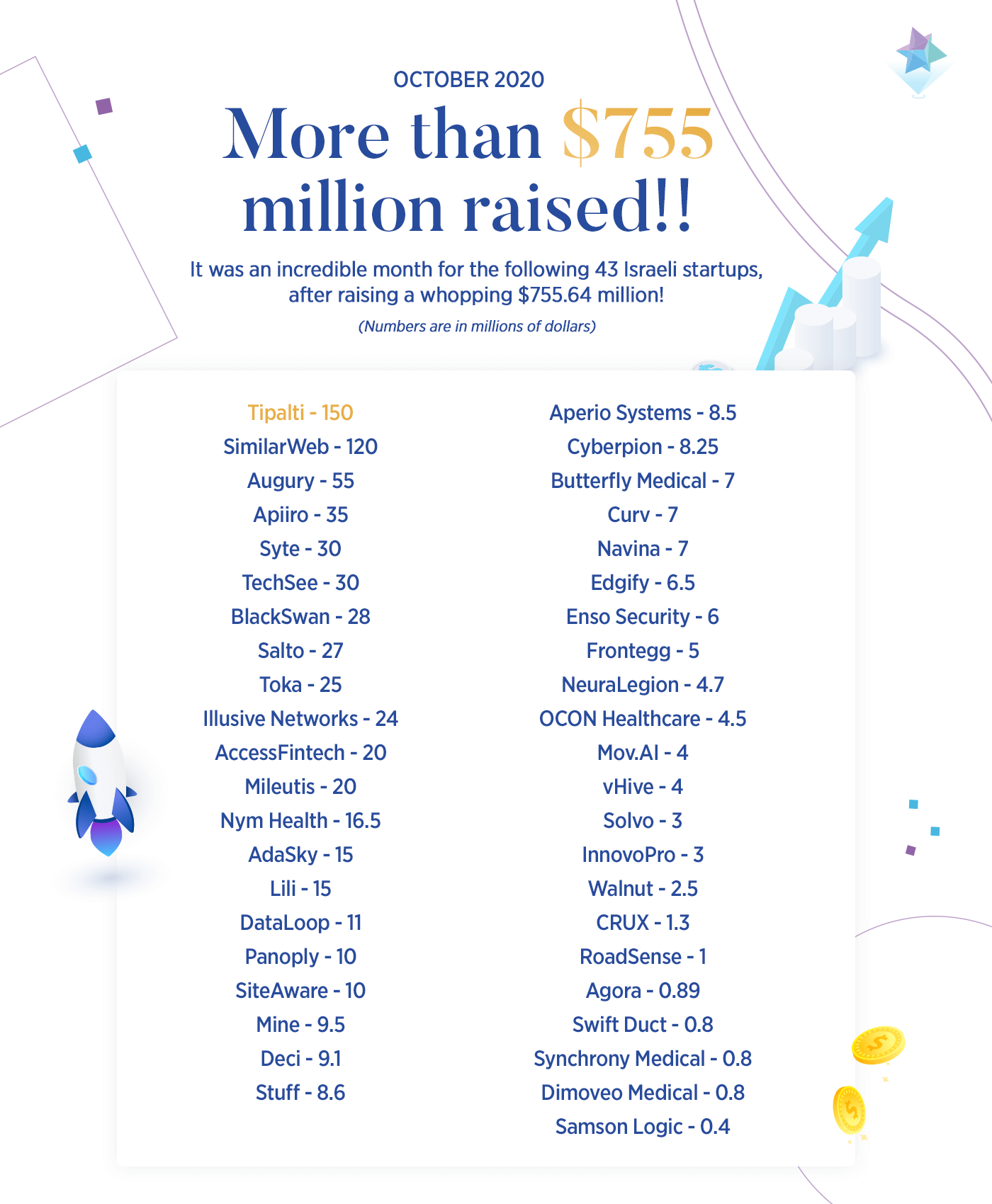 That's all, folks!
See you next month with more millions of dollars and more promising startups.

Don't forget to follow us on Startup Israel Community